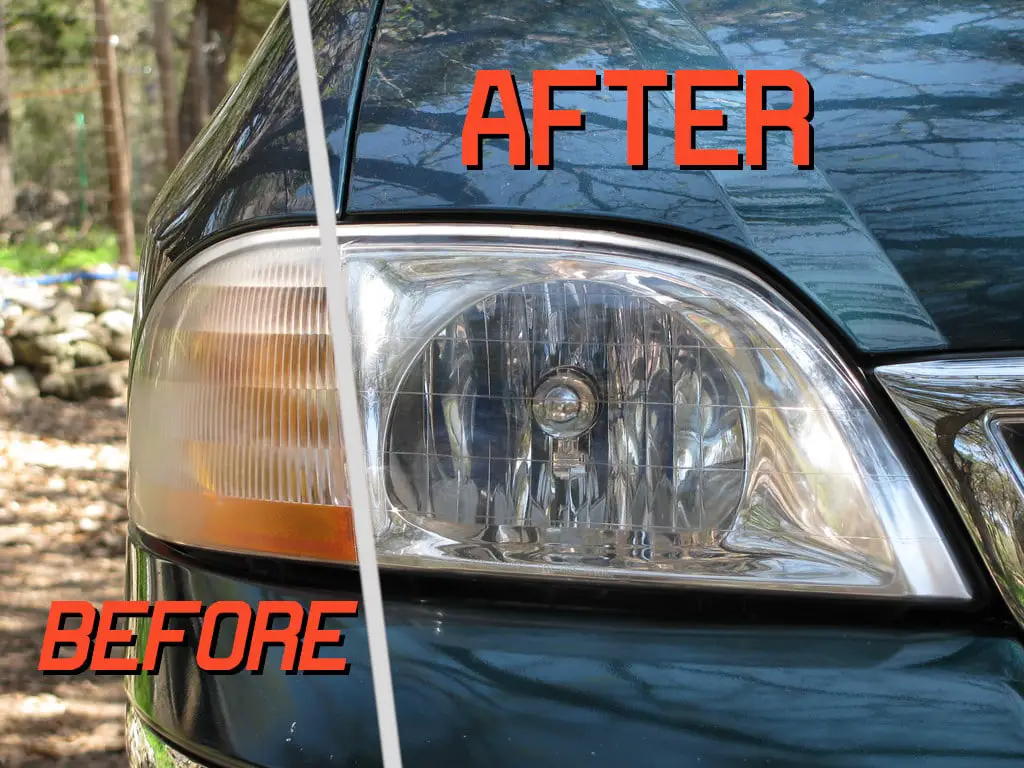 Hey I'm Vince.
Is it really true?
Can you really clean plastic headlights with household items?
The answer might surprise you. As a matter of fact, it is possible to clean foggy and hazy plastic headlights using some items you have around the house.

Household Items that Clean Car Headlights
But as with all good things in life, there's a small catch. Cleaning plastic headlights using basic home remedies will usually only produce temporary results. The headlights in your vehicle are dull, faded, cloudy, and hazy due to UV degradation or oxidation. The only tried and tested way to permanently restore the clarity of oxidized plastic headlights is to use a headlight restoration kit or replace the lenses altogether.
But then again, not all headlight cleaning kits are the same. Some will only come with pre-mixed liquid chemicals. The process is nothing more than applying the cleaning solution using a clean microfiber cloth. On the other hand, the best headlight cleaning and restoration kits will come with abrasive sanding discs and polishing pads. If you use this type of kit, it can permanently remove hazing, cloudiness, and oxidation to restore the like-new condition of the headlight.
Pro Tip
After cleaning you headlights, make sure to seal them with a UV Protectant!
3 Ways to Clean Plastic Headlight Lens with Common Items
For a quick fix, you can use WD-40, Coca Cola, and even PAM cooking spray to clean plastic headlights. This article will help explain how you should do it without spending a dime on aftermarket cleaning products and restoration kits.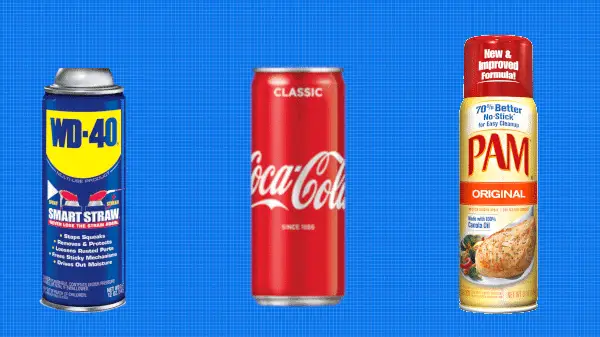 1. How to Clean Headlights with WD-40
Is there something WD-40 can't do? This handy product has been around for decades and is used in an endless amount of ways. It is a silicone based spray that is formulated to displace water. Fortunately for you, if you have a can of WD-40 in the garage, you can use it to quickly clean and restore the clarity of foggy plastic headlights.
I've seen videos on YouTube where the person will simply spray WD-40 on a dirty set of headlights. My advice is to always start with a clean area. Wash the headlights (or the entire vehicle) with clean water and car shampoo before proceeding.
Wipe the headlight dry using a clean cloth. Grab a small bottle of WD-40 and spray a liberal amount of the lubricant on the plastic lens.
Use a dry towel to wipe the headlights clean. You will immediately see the results after the first wipe. But in the case of extremely oxidized headlights, you may need to repeat the procedure twice or thrice to achieve the desired results.
Finish off by grabbing a separate towel to give the plastic headlights a final wipe. WD-40 will not harm automotive paint so you can do this method with utmost confidence.
Remember, don't be surprised if the headlights will revert back to their old foggy state after a couple of days. Like I previously mentioned above, using household items to clean plastic headlights is only a temporary fix.
2. How to Clean Headlights with Coca Cola
Opening a can or bottle of Coke is a refreshing way to beat the heat. But Coke can also be used to clean many items around the house. The reason for this magical ability is phosphoric acid. A small can of Coca Cola contains enough phosphoric acid to remove rust and stains from clothing and metal parts. As it turns out, Coke is also a cheap way to restore the clarity of cloudy and faded plastic headlight lenses.
Again, I have seen tons of videos where people pour Coke over the headlights. This is not only wasteful, but you will end up cleaning the rest of the vehicle to remove all the sticky residue once it dries. For this method, I like using a small spray bottle to effectively dispense the Coke on the headlights. You can also mask or cover up the surrounding areas with newspaper or cloth to prevent overspray.
Pour a can of Coca Cola in a small spray bottle.
Spray a liberal amount of Coke on the plastic headlights. Let it sit for 30 seconds.
Use a dry microfiber towel to wipe the headlights clean. Spray more Coke if necessary.
You will instantly see the results after the first application. In some cases, you'll need to repeat the procedure to achieve the best results.
After treating the headlights with Coke, I like to give the headlights a final wash with clean water to remove all traces of sugary residue on the exterior.
Read about more things you can clean with Coke
3. Cleaning Headlights with PAM Cooking Spray
Who knew that PAM cooking spray (or basic vegetable oil) can be used to clean plastic headlights? All you need is a small amount of cooking spray or vegetable oil to complete the job.
 If the headlights are dirty, wash it first using car shampoo and clean water. Wipe the headlights dry before proceeding.
You can apply the oil directly on the headlights and let it soak for two minutes. What I like to do is to use a small cotton ball. Simply apply the cooking spray or vegetable oil in a small cotton ball. Use it to apply the oil on the headlights.
Grab a dry microfiber towel and proceed to lightly polish the headlights. Don't hesitate to add more oil when necessary.
Use a separate towel to give the headlights a final wipe. The results will be immediate and you will see a difference after the first application. You can repeat the procedure if the headlights are extremely dirty or cloudy.
The lubricating properties of cooking spray will help to lift off stubborn dirt and oxidation on the plastic lens. You can do this safely without fear of scratching the headlights as long as you pre-clean the headlights prior to applying cooking spray. You should also make sure to only use clean towels to prevent adding scratches and nicks on the plastic lens.
Home Remedies vs. Restoration Kits
Headlight cleaning and restoration kits are not expensive. Most will cost $10 to $25. But I understand why some people still prefer to clean plastic headlights using ordinary household items. Why spend more money on a restoration kit that you will only use once?
So if you've got the WD-40 or Coke lying around your house, why not give it a shot? You've only got time to lose. However, if these cleaners don't restore your lights to your expected results, I highly recommend just spending the $20 bucks on a kit. Purchasing the Meguiar's, Mothers NuLens, 3M, or SYLVANIA quality headlight restoration kits are a sure-fire way to refurbish the look and functionality of modern plastic headlights.
One Last Step
Alright I know this is supposed to be an article about using home products to clean those dull headlights, but if you want to extend the life of your shiny new lenses you want to apply a UV Sealant or Clear Coat for headlights. If you only clean the lenses then the sun and other elements are going to quickly fade the lenses again and ruin all your hard work. So grab a can of clear coat UV protectant and give it a quick spray before you call it a done job!
Here's a two that I like.
Conclusion
While WD-40, Coca Cola, and cooking spray can temporarily restore the clarity of plastic headlights. But did you know there are other household items you can use as well? Check out Matt's article on home remedies to clean car headlights to learn how you can use a tube of toothpaste or a small carton of baking soda to clean plastic headlights.
-Vince
Featured image courtesy of Larry – find more of his work on Flickr!