Lisle 17942

Capri Tools CP21021

Matrix M28

FloTool 42003MI

Lumax LX-1632 Drainmaster

Form-A-Funnel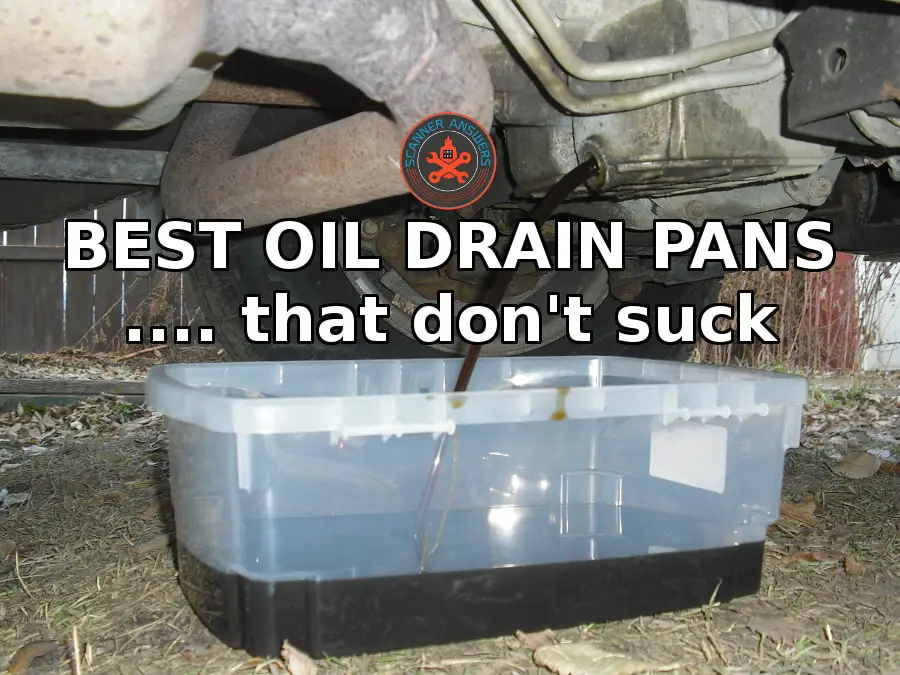 6 Best Oil Drain Pans Reviewed
Hey guys and gals, Vince with ScannerAnswers here to talk to you about how to choose the best oil drain pans that don't suck. If you're like me, you've gone through plenty of pans in your mechanic work and are getting tired of them leaking. What happened to the good old days? I remember working on cars with my dad, and we only had one drain pan… Never had to buy another.
This tool saves time on oil changes and reduces liquid mess!
Well today I'm going to show you some of the catch pans that we've used around the shop. Some of them have lasted for years, other haven't fared as well. Hopefully this guide can help you find the best oil pan for your needs!
Want to skip the reading? Here's the products!
| # | Preview | Product | Rating | Price | |
| --- | --- | --- | --- | --- | --- |
| 1 | | Lisle 17972 4.5 Gallon Oval Drain Pan, Black | 275 Reviews | $31.99 | Buy on Amazon |
| 2 | | Capri Tools CP21021 Portable Oil Drain Pan,... | 2,276 Reviews | $29.99 | Buy on Amazon |
| 3 | | Matrix Concepts M28 Oil Drain Container, Clear | 339 Reviews | $30.19 | Buy on Amazon |
| 4 | | LUMAX Black LX-1632 15 Quart Drainmaster Pan and... | 8,256 Reviews | | Buy on Amazon |
| 5 | | Form-A-Funnel Flexible Draining Tool - Lawn &... | 1,839 Reviews | $17.88 | Buy on Amazon |
Top Oil Drain Containers Reviews
I'm sure you already know that you want an oil catch pan, so let's get down to the list. Below are our favorite Oil Drain Pans for the price. 
Lisle 17942 Black Plastic Drain Pan – Our Top Pick
Capri Tools CP21021 – If you want old-school
Matrix M28 (an all-in-one oil drain pan and storage container)
FloTool 42003MI Drain Container – A larger solution
The Lumax LX-1632 Drainmaster 
Form-A-Funnel – The best oil drain tool for your motorcyle
1. Lisle 17942
Bottom Line
2-handle design makes it real easy to carry – Resistant to chemicals and solvents – 18 quart capacity
Editor note: We have updated this item from the 17942 to the Lisle 17972, which is the latest model as of November 2021
We love this oil drain container because of the ergonomic layout. From the 2 front side handles and one on the back, this good looking black oil capture pan is a great tool for your garage. And this product is certainly among the finest pans you can buy, for a couple of great reasons. To start with, it features a very good capacity of 18 quarts. It is really easy to handle when loaded, different from many other products which have thin handles.
Created from a polyethylene material, it is resistant to chemicals as well as solvents.
With a large capacity and affordable price tags, it easily makes our list of top oil catch pans.
2. Capri Tools CP21021
Bottom Line
The Capri Tools weighs about two pounds, which makes it especially transportable, and includes an anti-splash lip which contains liquid when you are pouring. Additionally, it is constructed of tough polyethylene substance which provides long-lasting durability and it is very easy to clean.
3. Matrix M28
Bottom Line
All-in-one drain pan and storage solution – 5 qt capacity – no need to worry about leaks, just throw it in your car or trunk when done – low profile to fit under most cars, vans, and of course, trunks
Matrix styles really put a lot of attention into this drain pan. The initial thing you will see would be that this oil pan is translucent, and that is a deviation from the typical black that most oil drain pans feature. This enables you to easily figure how full the box is without any need for shaking it or picking it up. This pan can hold about 5 quarts, which should be enough for most 4 or 6 cylinder cars. In case you have a bigger engine or an especially thirsty car, you'll have to upsize. The M28 is a quite low-profile oil drain pan, meaning that it'll fit under most models of vehicles. In addition, it features a simple carrying handle that will make transportation pretty easy when full.
With regards to the pour spout, the Matrix M28 Oil Drain Container includes a spout which can be capped, to keep your oil until you are prepared to dispose of it securely by dropping it off at the auto shop.
As a whole, this pan provides a great all around system and we strongly recommend it as one of our all around favorites.
4. FloTool 42003MI
No products found.
Bottom Line
Another oil catch and container – Holds up to 16 quarts of oil, antifreeze, etc – great for draining oil and carrying it off to disposal
This particular drain container offers probably the greatest design when it comes to collecting and dumping fluids. No products found. is a 16-quart item that has the power to accumulate oils, antifreeze, trans fluids, water, etc. First of all, it comes with a square design which makes it simple to transport. Second, it features a simple red drain plug that works also as a sealer when the container is full.
There is a small air hole that is here to help with the dumping process, together with a side dumping plug that is actually large enough to clear this item out of any fluids, in just a couple of seconds. You will have the ability to keep it upright or flat without any leaks.
5. Lumax LX-1632 Drainmaster
Bottom Line
15 Quart Capacity – Large opening (8 inches!) so you don't have to be a brain surgeon to get all the oil in the container – USA made
In case the Matrix pan (number 2 on our list) is a little too small, we advise choosing a pan that is a little more ordinary. Our absolute favorite among these is the Lumax Drainmaster. The volume is 15 quarts, which will handle anything from trucks to SUV's or autos with V8's and ever larger engine. There is an 8-inch opening sitting on top of this pan, meaning that luckily there is not much to clean after an oil change. Only screw the cap on and firm it against the leakproof seal once you are finished and you are ready. Furthermore, this pan is equipped with 2 carry handles which make the movement around quite easy.
The entire quality of this pan is high as far as oil containers go. It is protected from leaking and is made in the good-ole United States Of America. In the end, although it is not so relevant to the function, the red caps appear pretty slick. On the whole, if you want a high capacity oil drain pan, you can not fail with this one.
6. Form-A-Funnel
Bottom Line
Flexible funnel keeps nasty fluids off the driveway and your wife yelling at you – Works AWESOME for Motorcycles and hard-to-reach oil bolts
Now bear with me. I know what you're thinking right now. "Vince, I'm here looking for the best oil drip pan, and you're showing me a funnel!?" Hold up there big shoots. You can have the best drip pan in the world, but if you don't have a good path for the oil or antifreeze to flow INTO the drip pan, you'll still have a nasty mess on your driveway or backyard…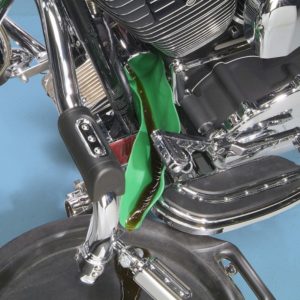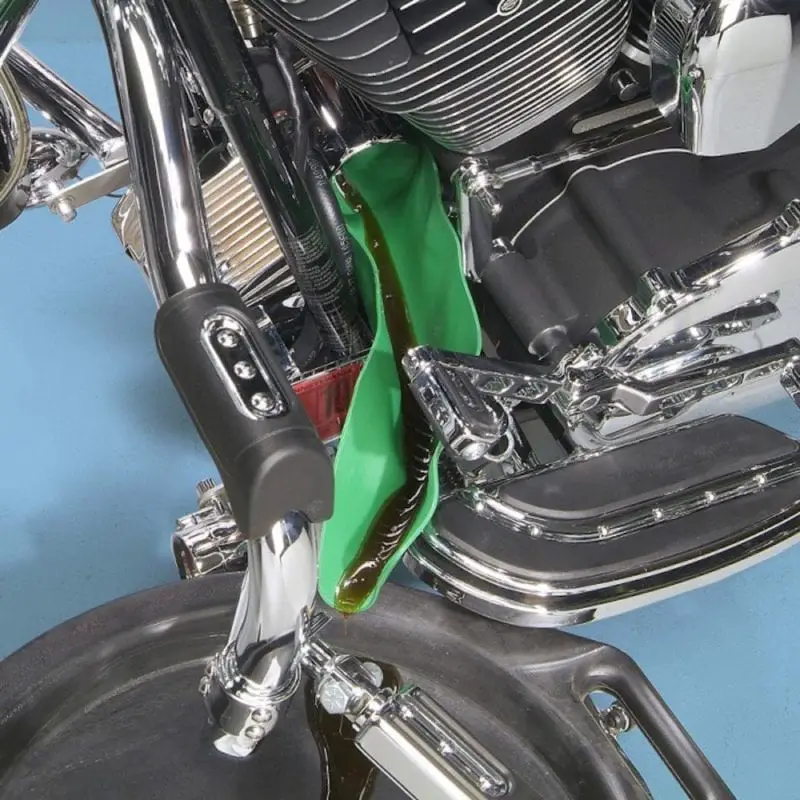 This is why I included the Form-A-Funnel. All you have to do is hook this flexible little gadget up just below your oil filter, and when you loosen the filter, you'll have full control of where the oil flows. Bang! No more getting yelled at by the wife because you spilled oiled all over the driveway.
Definitely consider picking up one of these if you do oil changes on motorcycles or hard-to-reach oil filters. It will save you tons of time and prevent clean ups from oil spills!
Why Do I need an Oil Catch Pan?
The necessity of good oil drain pan can easily be neglected, until it is time to change your autos oil. Oil should be changed about every 3000-6000 miles. If you want to drain and dump it at your recycling location, this can be an easy process, but only if you have the appropriate item to store it in. By making use of an oil drain pan you can quickly collect all the oil and place it on a chosen spot.
So, when you plan to do a lot of your own upkeep and maintenance on your vehicles, you will definitely be wanting one of these simple oil drain pans for when it is the proper time to change the oil and filter. We have provided some very affordable and interesting designs for those on a budget, as well as a few more stylish and sturdy models that will fit nicely even in a professional garage setting.
Conclusion
So there you have it. Our six picks for the best oil drip pans. Did you like the review? Do you have a favorite oil pan that we missed? Drop a comment below and share your thoughts!
Recommended Reading: https://scanneranswers.com/best-parking-assistance-systems-and-backup-cameras/
-Vince