Backup Systems
Pyle

Esky

Car Rover

BeneGlow

ePathChina

Hopkins 60100VA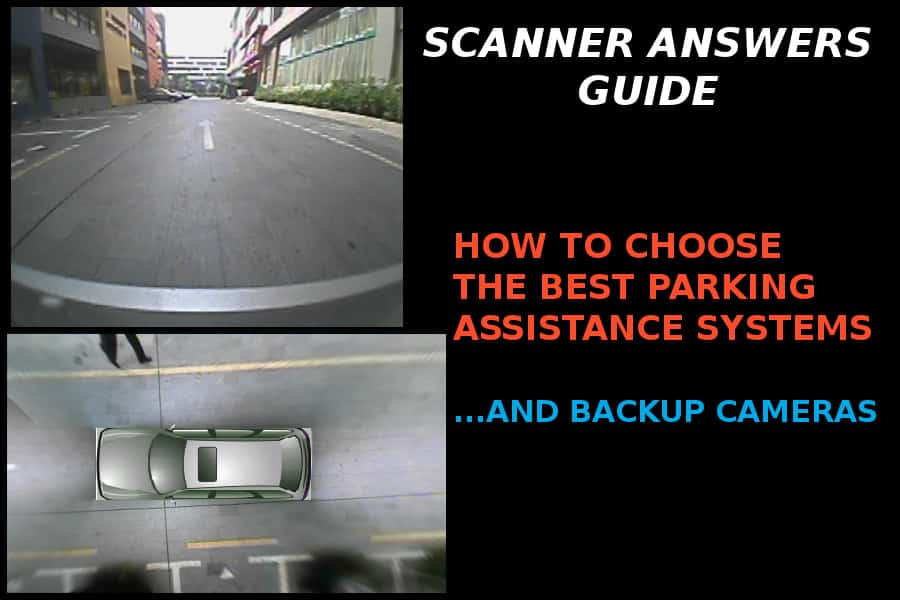 Today's Best Parking Assistance Systems and Backup Cameras
Parking Sensor Systems are becoming standard features in a recent car models, but that does not imply you have to buy a new car to appreciate the advantages and safety of having one. Car parking sensors usually use high-frequency sound, above the limit of human hearing, to recognize barriers similar to the way bats use echolocation. A lot of these sensors are mounted in holes which are drilled on the bumper of the car, however, these can be also mounted on the license plate frame.
Comparison Table
| # | Preview | Product | Rating | Price | |
| --- | --- | --- | --- | --- | --- |
| 1 | | PYLE Vehicle Backup Camera for Car, 7 inch Monitor... | 1,771 Reviews | $40.99 | Buy on Amazon |
| 2 | | Esky Car Rear View Camera Waterproof High... | 57 Reviews | | Buy on Amazon |
| 3 | | CAR ROVER Night Vision Car Rear View Camera 170... | 304 Reviews | | Buy on Amazon |
| 4 | | Hopkins 60100VA nVISION Back Up Sensor System | 498 Reviews | $50.88 | Buy on Amazon |
Hey check out this sweet article: https://scanneranswers.com/best-radar-detector-for-the-money/
Following next is a list of the eight top parking and assisting sensors that have the potential to make your life and parking much easier.
Pyle
Esky
Car Rover
Beneglow
ePathChina
Hopkins 60100VA
1. Pyle
Bottom Line
Full-blown vehicle backup monitor kit – camera and wires included – simple install and very affordable
As a number one, we have the Pyle PLCM7500. This backup camera is on the the most affordable parking assist systems on the market today. If you're not looking for a sensor-based parking assist, then the camera-based backup system is the way to go.
Everything you see above is included so this is a kit product. No need to buy additional screens or cameras or wires. Just buy the Pyle PLCM7500 car camera, get a friend to help, and in a few hours time you'll have eyes in the back of your head… er car 🙂
2. Esky
Bottom Line
A 4 sensor complete system – Protects you and your family – shows you how close your vehicle is to an object
If you prefer affordable price and good function, search no more. The Esky LED is precisely the thing you need if you want a user-friendly and understanding system, which will help you park without getting too near to objects. This car parking system is really straightforward, but still you will need some time to full install the whole kit. Make sure to hook up the power to your reverse lights! We made this mistake when installing the kit on a Mustang and couldn't figure out why it was beeping at us when our brake lights came on… oops!
With this system, you also get an LED bar designed display device that informs you visually and soundly about the distance to the object behind you when parking. You will also get the proper wiring, four sensors, receiver, along with a drill bit, particularly intended for installing the sensors.
For less than 20 bucks and a little elbow grease, it is a pretty good deal.
3. Car Rover Backup Cam
Bottom Line
Simple camera that easily hooks up to your built-in dash screen or deck
If you already have a DVD player, or other built-in screen in your dash, then consider the Car Rover parking camera. It's a simple camera and worth the low price.
The Car Rover sensor system comes with a backup camera that has a 170* degree viewing angle. It features night-vision, easy install, and a waterproof design. It fits any vehicle and only took Matt and I Saturday afternoon to install it in a 2008 Ford Focus for a customer. Just plug the camera into the grommet where your license plate light is, and run the included wires back to your car's receiver.
4.  BeneGlow Front and Rear Backup Sensors System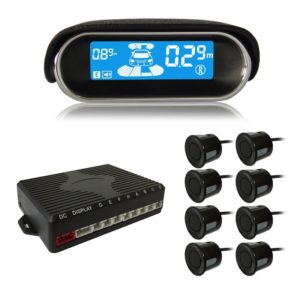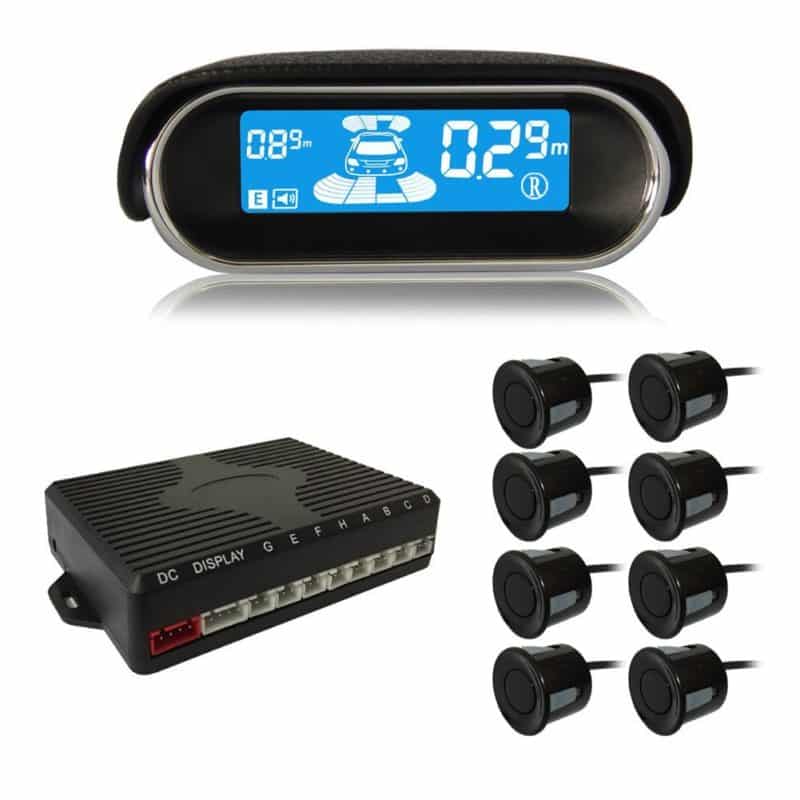 This package is a fairly new setup on the market, and not like a lot of other parking systems that only do reverse, this system does front additionally. The BeneGlow Front and Rear Backup Sensors System are manufactured from what looks like high-quality level plastic, not cheap anyway. You can also put the LCD display on the front dashboard and it can match it really nicely.
This system includes a total of eight outputs for parking sensors, and this package comes with a total of 8 backup sensors (you have four intended for the front and four for the rear). You're able to discover the distance in meters on the dash mounted display, plus you can observe the car back and front matrix bar, and finally you're able to turn the volume up or down.
All you need to install and relates to this kit is included in the set.
5. ePathChina Mini Display Parking Sensor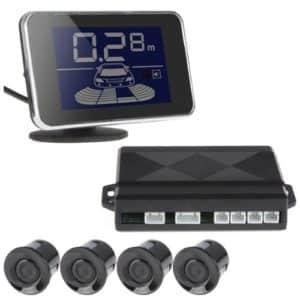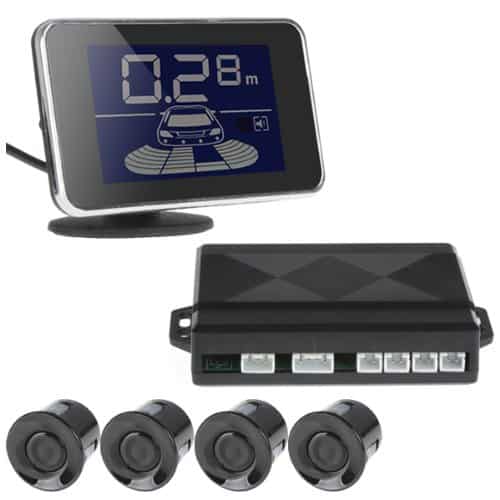 What makes this setup apart from the other wired devices is the bigger, more helpful display. As a substitute to simple and color coded lights, the 4 bumper installed sensors every get their own part in the lLED dash unit, causing obstacle prevention simple. Together with the big, high-quality LED display, this system offers a three-zone distinct warning.
The Mini Display parking sensor is a pretty similar kit to the Esky and Beneglow. We haven't been able to personally use it, but one of our buddies, Eddie, had installed one on his Chevy 1500 about a year ago and he swears by it.
We've been unable to find one of these kits online, but if you see one at your local Napa or other auto-parts store, pick one up.
6. Hopkins 60100VA nVISION
Bottom Line
Easily mounts behind your license plate – Simple vehicle sensor system without any complicated cameras – 3 year warrant
This product is actually a two sensor system installed behind your back license plate and obtains power from your back lights. It can easily be installed on your own and provides 3 stages of distinct alerts while approaching barriers. This product substitutes your rear license plate frame with a soft, discreet look and does not ask you to drill into your bumper.
The Hopkins 60100VA is a great parking assistance system if you are looking for an easy-to-install, complete package.
Vince and I were able to install this on his wife's 2013 Toyota Highlander last weekend. Total work time was about 2 hours. The most difficult part was running the wires from the license plate back to the battery.
Overall, this is a great entry-level parking system!
Final thoughts
Any questions about this review on the best parking assistance systems? Drop a note below and we'll help you out!
Suggested Reading: https://scanneranswers.com/best-oil-drain-pans-that-dont-suck/
– mike