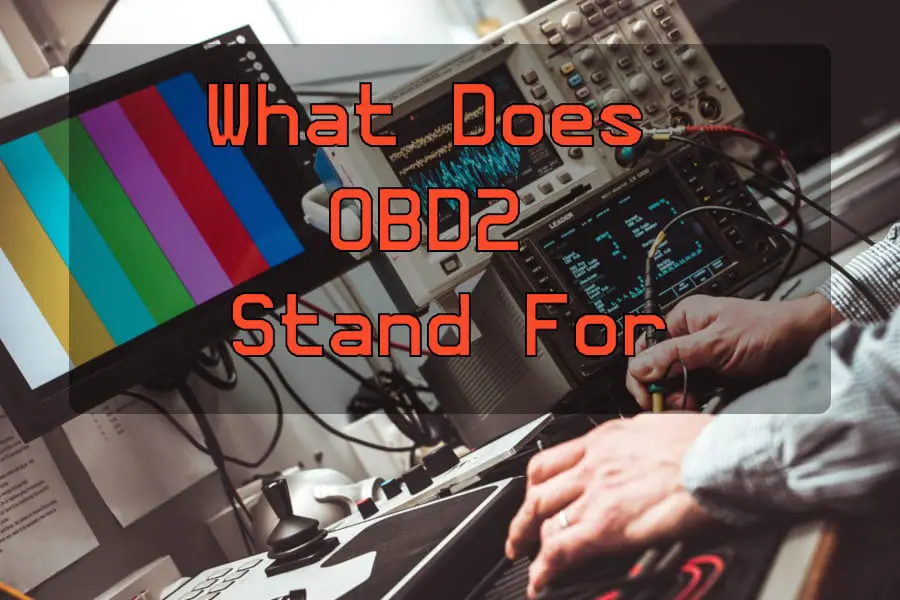 A crash course on OBD vehicle systems
Ever wondering what does OBD2 stand for and mean? OBD is an acronym for On-Board Diagnostics. OBD-I was the first generation. It lacked universal protocols and was limited in the number of specific Diagnostic Trouble Codes (DTC) available to pinpoint the problem. Volkswagen was one of the few models to offer any DTC's at all because they had pioneered on-board diagnostics in 1968 Type 3 fuel injection models.
Nevertheless, back in the OBD-I (OBD1) days, manufacturers had all sorts of devices to read emissions which an inspection station would simply never have the means to stock. This relegated emissions testing primarily to the dealerships, who had adequate factory computer systems for making repairs as they saw fit rather than meeting legal requirements. An OBD scanner typically consists of a dongle and a computerized scanner, laptop, or a shop computer (more rugged in design). The second generation OBD, OBD-II (OBD2), scanners and dongles all have the same 16-pin universal male interface to plug into the female OBD-2 port of each vehicle. The port is logistically located within reach of the ignition key.
Related: Fix your car with and Android OBD2 adapter
DTC Codes
Few people ask their mechanics "What does OBD2 stand for?" because they don't care how their vehicles are fixed as long as they get fixed. The DTC codes that are used to diagnose emissions-related problems with a late-model vehicle may or may not be all that helpful. In many cases, the codes are too generic and provide little insight into what is actually causing the problem. For example, a misfire code can be caused by a number of issues: clogged or bad injectors, poor compression in a cylinder, vacuum leaks, bad spark plugs, bad coil packs, bad spark plug wires, inter alia.
As vehicles age, the number of factors increases because various components may be worn, suffer from high internal resistance, or otherwise start malfunctioning for inexplicable reasons. Many vehicles are sitting in garages and yards with a classic head-scratcher problem that doesn't make sense. The shop or owner may carry out every possible test and find the parts meet technical specifications and are not faulty. Yet, the vehicle does not function correctly for reasons beyond comprehension. Instead of throwing away 10 or $20,000, they will just throw parts at the vehicle and still fail to obtain a solution. There are too many things that can go wrong with an automobile today, which makes them virtually disposable.
Mercedes-Benz is a perfect example of engineering vehicles to fail. They made the wiring of vehicles in the early to mid-90's out of cornstarch to demonstrate their belief in biodegradability. This tokenism led to the insulation for wiring on thousands of vehicles deteriorating prematurely and lots of vehicles that had to be recycled, ultimately rendering all the work put into constructing them worthless. So much for green engineering!
DTC codes have been standardized to a set of 11,000 universal codes. This does not, however, impinge upon manufacturers to throw in additional codes of their own. In addition to DTC's, OBD-II also offers real-time data on performance. Nonetheless, this is still mostly used for performance tuning purposes rather than diagnostics. Understanding OBD-2 is now critical to retaining your automotive investment. When you know why that MIL lamp is illuminated, it makes it a lot easier to sort rip-off shops from those genuinely committed to quality-repairs.
OBD2 Scanners
Next time that you are in the shop trying to fix your vehicle to pass emissions before you get nailed with a failure-to-inspect ticket, be sure to ask your mechanic "What does OBD2 stand for?" If he hesitates, you should probably consider taking your vehicle to somewhere more qualified. It is now possible to purchase a decent iPhone OBD-II scanner for like 20 bucks. It is helpful to have the scanner/dongle in your trunk or glovebox at all times. This way you are prepared to make an instant diagnosis yourself whenever that Check Engine Light illuminates. Having a scanner and a basic understanding of how OBD-2 works can save you from expensive towing, tickets, and repair bills.
Using an OBD2 Scanner
While many auto parts stores claim to have free scan tools available for use, you will find that they are almost always broken or missing. Scanning your own vehicle is simple. The main rule to remember is that you do not connect or disconnect your OBD2 scanner unless the ignition key is turned to the OFF-position.
You can find the female OBD2 16-pin port by checking your owner's manual or looking around under the dash on the driver's side. The port is almost always on the lower left-hand side, sometimes hidden by a special door molded into the dash console itself. If you still can't find it, search online for the location on your particular model. Someone likely has documented it with pictures.
Make sure you download the correct app for your OBD2 scanner. iPhone and Android's will use different elm software.
Scanners are simple to use. You simply check for DTC's, copy down the code numbers, and then erase the codes. Most of the codes start with a "P" for Powertrain. These will provide information on any relevant transmission or engine codes. Manufacturers usually have specific codes for their transmissions that require professional automotive diagnostic computers. A general scan tool will only access the Powertrain Control Module(PCM) but will not access modules that use other protocols like a TCM (Transmission Control Unit).
Codes that begin with "B" designate items that may, likewise, be controlled by a separate BCM (Body Control Module). This includes HVAC, interior lighting, instruments, airbags, power seat and mirror functions, etc. The number of codes that you can access with a generic OBD-II scanner can be very limited. Many manufacturers like to use brand-specific codes so that they can require the labor to be performed at their dealerships. If your vehicle has a TCU or BCM, it probably requires separate diagnostic scan tools to access them through the same OBD2 port because they are coded using different protocols. Vehicles may provide a limited number of OBD2 engine codes, as well, with Volkswagen as a key example of a manufacturer that offers far more coding beyond OBD-II using CAN-BUS protocols.
In order to get a general idea of what the DTC code might mean in your vehicle, you will probably have to do a search online. Consulting with any included manual may be very vague. The codes can mean different things for different vehicles because they are so general. And troubleshooting the exact cause is an art form that takes time to master.
Increasing Emissions Standards
If you haven't noticed, vehicles today are being held under stricter and stricter emissions standards every year. In order to meet these standards, diesel manufacturers have been forced to scrub particulate matter from the exhaust using all sorts of convoluted processes. The Diesel Particulate Filter (DPF) is a shining example of horrible engineering. The DPF would clog up and go through a regeneration mode that made it impossible to start a non-running vehicle and that would cripple a running vehicle to speeds as limited as 5 mph. If the regeneration cycle started when the vehicle was sitting in a field of tall grass, it could heat up the exhaust to burn off the particulate and set the truck on fire at the same time.
Gasoline engine manufacturers have been forced to engineer super-efficient high-compression engines that run on direct injection. Direct injection injects the fuel directly in the combustion chamber when the air is compressed rather than into the valve chamber of the head(s). Traditionally fuel is injected into the head(s) and sucked into the combustion chamber on its downstroke under vacuum pressure. Many other manufacturers have been forced to install Continuously Variable Transmissions (CVT's) on their vehicles to adapt the virtual gear ratio to maximize efficiency.
The emission standards are becoming stricter even in the vehicle computers themselves. Nowadays, the vehicles keep a record of emissions and will fail drivers who disconnect their batteries and fail to run their vehicles for a sufficient number of miles or duty cycles to burn off particulate trapped in the catalytic converter. The number of sensors involved in monitoring emissions and throwing OBD2 codes when something is slightly amiss is also troubling.
A late-model vehicle can have a Check Engine Light indicating an OBD2 emissions-related code from simply failing to tighten the gas cap sufficiently. This makes it dangerous to drive a late-model vehicle because there are often short periods of time to repair vehicles and lots of police who are willing to write tickets. When it comes to shopping for a place you can trust to repair the vehicle, you are not likely to find anyone competent if it is a complex problem due to the specialization of automobile repair and the lack of dedicated brand-specialists.
Although the dealerships are supposed to offer the highest level of expert service, they would rather force you into a new vehicle if the warranty is up. This is because their technicians mostly work on flat-rate and do not make sufficient hours on complicated jobs. They would prefer to change oil all day, mount tires, and do anything but diagnose a complex emissions issue.