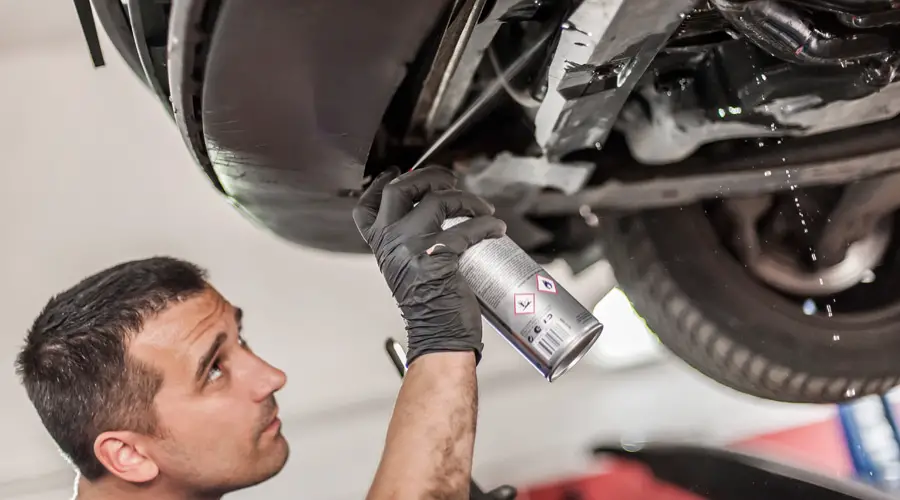 For most car enthusiasts, one of the most annoying things to deal with while trying to perform routine maintenance is stubborn rusted nuts and bolts. When it becomes obvious that a wrench just isn't enough to get the job done, using the best penetrating oil can save the day.
What Does Penetrating Oil Do?
You probably know that penetrating oil cuts through rust and corrosion but there are a lot of other benefits to using it, too. Let's take a closer look at why using the best penetrating oil is so important.
Rust Removal and Lubrication
Obviously, rust removal and lubrication are the main reasons to use penetrating oil. The first thing the oil does is penetrate the rusted part, softening it so that it can be unstuck. Then, the oil penetrates even deeper to help lubricate the bolt making it even easier to remove.
Prevention of Future Rust and Corrosion
Once it cuts through the rust, the best lubricating oil then provides a thin film that coats the meta. This prevents water and moisture from contacting the metal, preventing rust and corrosion in the future and avoid codes like the P0128.
Efficiency
The biggest benefit of using penetrating lubricant oil is that it saves you time and aggravation. Instead of wasting time wrestling with rusty nuts and bolts, you can get right to work. Some formulas are even able to clean grease from surfaces which helps make cleanup a snap.
What to Look for When Choosing the Best Penetrating Oil
There are so many options out there when it comes to choosing the right product. It's helpful to know what you're looking for so you know you're getting the right one. Here are some of the things you should consider when making your selection.
Uses
If you want something that just cuts through rust, any formula is typically a safe bet. Look for multi-purpose products for lubrication, protection, and even a little cleaning power.
Easy Application
Spray-on products are the most convenient and most common type of lubricating oil. Most of them come with a long, thin tube attached so that you can easily apply it anywhere, even in tight spaces.
That said, some products require soaking, which can be a little tricky to pull off.
Surface
Most of the time, you're looking for a product that works on metal but there are other options, too. Some products are safe to use with plastic, rubber, and even painted surfaces.
10 Best Penetrating Oil Products
Now that you know a little more about what to look for, here are ten of the best products out there.
1. Kano Aerokroil Penetrating Oil
One of the most highly rated penetrating oils out there is Kano roil penetrating oil. It's effective on a range of materials, including tools, hardware, and heavy equipment. The nozzle makes application easy and it doesn't expire so you can hold onto it for a long time. That's not all – it's also covered by a hassle-free refund. If it doesn't work, they'll give you your money back.
2. Castle Thrust Penetrating Oil
Castle Thrust Penetrating Oil comes in an easy to use aerosol can and is safe for a wide range of applications including; stuck fastener, rusted nut, seized bolt etc. One of the best things about it is it goes on like a foam, helping the formula stay in place for maximum efficacy.
3. Liquid Wrench Penetrating Oil
Not only does this penetrating oil dissolve rust, but it cuts through grease, too. You can use it on nuts, bolts, latches, locks, and more. It works great as a lubricant and is safe for plastic and painted surfaces.
4. Royal Purple Maxfilm Synthetic
This penetrating fluid from Royal Purple is one of the best multipurpose products out there. It works on just about anything and penetrates deep to help you remove even the most stubborn nuts and bolts. It's a great lubricant, too, and even protects metal surfaces against moisture to prevent future corrosion.
5. B'laster Penetrating Catalyst
While B'laster is effective on just about anything that is stuck, rusted, frozen, or corroded, it's especially effective on automotive parts, including brakes, nuts, bolts, exhaust, and suspension systems. It protects against future corrosion and you can use it for marine and plumbing applications as well.
6. Gasoila Free All Rust Eater Deep Penetrating Oil
Because it's silicone-free, this penetrating oil from Gasoila is safe to use indoors. It has a great oily texture that penetrates rust and works as an excellent lubricant as well as protecting against any future rust and corrosion. The aerosol can make application easy and the small, thin tube makes sure it gets just where it needs to go.
7. CRC Screwloose Super Penetrant Oil
CRC Screwloose works to attract rust and corrosion on nuts, bolts, screws, pins, hinges, locks, lugs, and many other mechanical components. It works fast, is extremely effective, and leaves behind a thin film to protect against moisture, stopping future rust before it starts.
8. KNOCK'ER Loose Solvent
KNOCK'ER Loose Solvent has a slippery, oily consistency that penetrates through rust and corrosion quickly and easily. It's extremely effective at soaking into seams, threads, joints, and cracks and works on just about any surface.
9. Cyclo Breakaway Fast Penetrating Oil
Since 1959, Cyclo has been designing products that help make car maintenance easier and their BreakAway penetrating oil definitely lives up to their reputation. Whether it's corroded nuts, bolts, or machinery or lubricating tools and hinges, this product delivers. The unique foaming action sticks where it's needed, covering more area and penetrating faster. It protects against future rust and is silicone-free.
10. Briggs & Stratton Penetrating Oil
Last but not least is this best penetrating oil from Briggs & Stratton. The company has over 110 years of experience so it's not surprising that this product delivers. This concentrated formula is powerful and penetrates fast, even on industrial machinery. It also acts as a lubricant, protects against moisture, and prevents future corrosion.
Source of Featured Image: canva.com