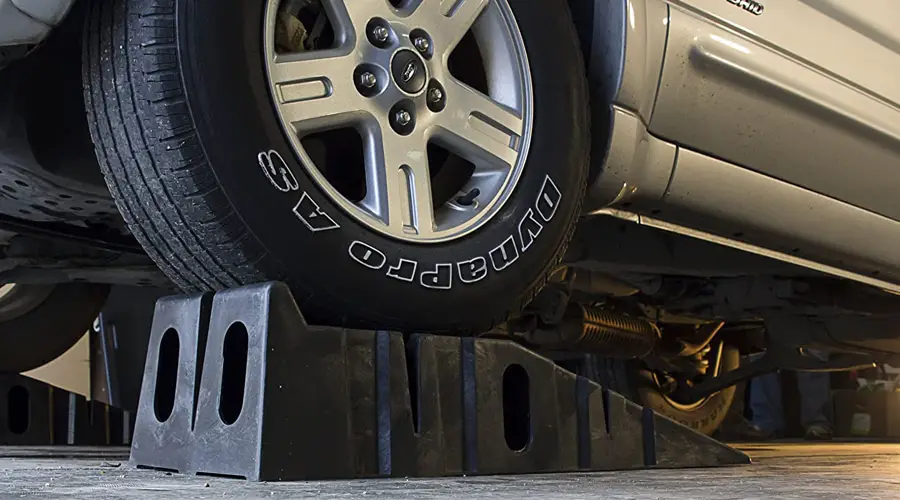 If you're interested in doing car maintenance at home, one thing you should invest in is a car ramp for oil changes. This is the safest way to access your undercarriage at home. It's important to choose the right product so you know you're going to stay safe while getting your hands dirty.
Here are some of the things to look for when choosing car ramps for oil changes as well as five of the best products out there.
Buying Guide: How to Choose the Right Car Ramps
Car ramps are significantly safer than a jack stand and much easier to use. That said, there are a few things to keep in mind when choosing the right set for your needs.
Material
Most car ramps are made of hard plastic, industrial-strength rubber, or steel. Plastic is typically the cheapest option while steel is the most expensive.
Incline
The height or incline of the ramp is another important thing to keep in mind. If you're buying these ramps to do car maintenance like oil changes, you need a higher angle to make sure you have the access you need to get the job done.
Weight Capacity
Before you can choose a car ramp, you first have to know the curb weight of your vehicle. Curb weight is how much your car weighs without any passengers or cargo. If you don't know this information, check your owner's manual or have a look at your car manufacturer's website to find out from a reliable source.
When choosing a ramp, it's a good idea to get one that can support up to twice the weight of your vehicle. In some cases, this might bump the cost up quite a bit. The stronger the ramps are, the more they are likely to cost. That said, this is not an area where you want to skimp on safety.
Pre-Made Holes
If you have a particularly heavy vehicle, like a large pickup truck or trailer, using car ramps with premade holes is a good idea. This way, you can anchor the ramps into the ground so there's no chance of them moving or shifting.
Grooves
Groove patterns on car ramps serve the same purpose as groove marks on tires – they increase grip. That's not all, they also allow snow, rain, and other debris to run down the ramp instead of puddling and creating an even bigger mess. This avoids a slippery floor and makes cleanup a little easier.
Top 5 Car Ramps for Oil Change
1. RhinoGear 11909ABMI RhinoRamps Vehicle Ramp
One of the best things about these ramps for oil change by RhinoGear is that they're portable while still being safe and reliable. Plus, you don't have to worry about finding a place to store them when you're done working. The nesting design saves space and makes it easier to tuck them away in the garage.
The rugged resin design is extremely reliable and features a non-skid base and improved tread pattern to help prevent slippage. These ramps feature an extra-wide design for more stability and confidence and the 17-degree incline is ideal for low clearance vehicles. They have a 12,000-pound gross vehicle weight capacity and are great for cars, pick-ups, vans, and more.
2. Black Widow PSR295
These plastic ramps from Black Widow are made out of high impact plastic and have a maximum weight capacity of 16,000 pounds. The angle is high enough to lift trucks and cars 6.25 inches off the ground and each ramp has rubber feet to prevent slipping. Plus, they're lightweight so they're easy to get in and out of storage when you need them.
One of the best things about these ramps is the grid design. These are a great choice if you live in an area where your vehicle is constantly exposed to snow, rain, or mud. The deep grids carry liquid and debris away from the tires so you don't have to worry about puddles collecting around you while you work.
3. Race Ramps RR-40 Service Sports Ramps
Race Ramps Service Sport Ramps are great for displaying or servicing low-profile cars, sports cars, or short-nosed vehicles. It's designed for use with vehicles up to eight inches wide and, combined, they can hold a vehicle weight of up to 6,000 pounds.
The high-density polystyrene material is coated in a rugged anti-slip coating resulting in a product that's lightweight, strong, and really durable. These ramps won't slide or damage your floor and they don't transfer heat or cold. They're so reliable, they even work on ice.
These ramps provide seven inches of lift and feature a raised lip so you can tell when you've reached the top of the ramp. Each ramp weighs only six pounds so they're easy to move around, too.
4. Discount Ramps Low Profile Plastic
Another great option is these ramps from Rage Powersports. They're made of heavy-duty plastic and can withstand solvents, grease, and oil. The loading angle is ideal for low clearance vehicles whether you're displaying your vehicle or performing repairs and have a weight capacity of 4,400 pounds.
These ramps lift tires 2.5 inches off the ground and are ideal for those vehicles that would be too difficult to use a service life or jack under. The honeycomb-shaped channels prevent moisture buildup and allow debris and dirt to pass through. Because they weigh only 4.5 pounds each, they're easy to move and store.
5. Low Profile Sports Car Lift Service Ramps
This pair of extra-long low profile car ramps from Discount Ramps has an 11.5-degree loading angle and is over 66-inches long, the ideal design for low profile trucks and sports cars. They lift your vehicle seven inches off the ground and the raised side rails help you stay on track when driving on and off the ramps.
The heavy-duty, durable, all-aluminum ramps have a 3,000-pound capacity and 14-inch wide tracks that accommodate wider racing tires. Rubber supports, a wide platform, and reinforced ramp gussets provide added stability.