Do you want to know how to repair a large tear in a leather car seat? Depending on just how large it is, you can choose to patch it, sew it, and more. Knowing all of the options will help you to remedy the look of your leather car seats so that the tear doesn't get any bigger than it already is.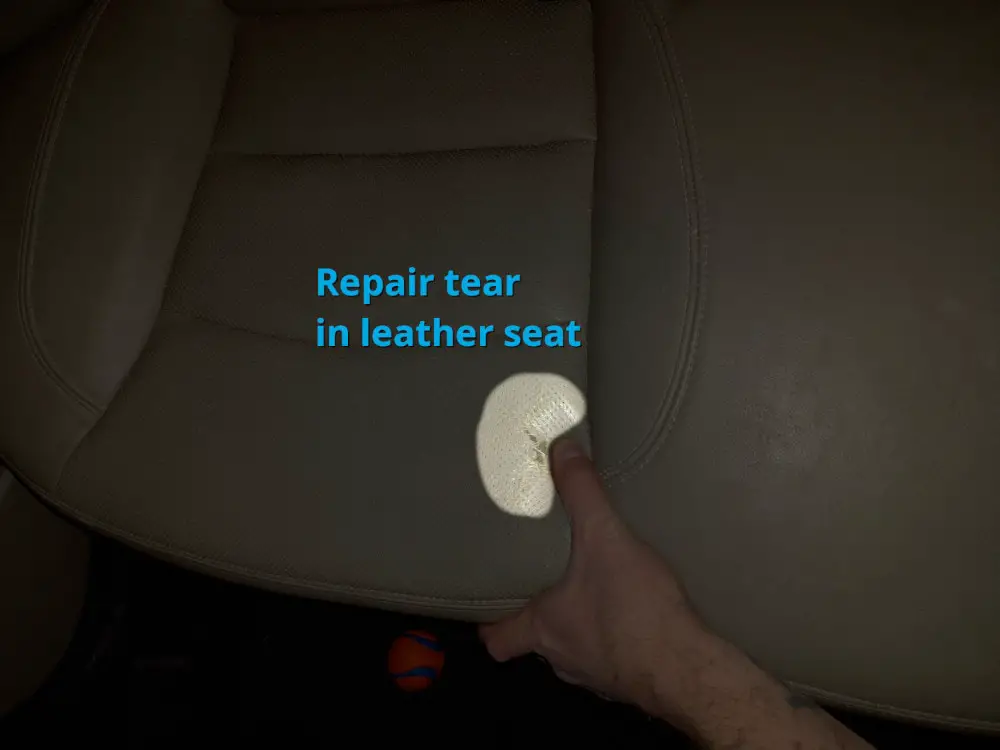 6 Ways to Fix Large Tears in Leather Car Seats
Knowing how to repair a large tear in leather car seats is important. The approach you take will depend on the size of the tear, how much time you want to spend, where the tear is located, and what your budget is.
The good news is that there are plenty of easy ways to take care of the tear so that the fix is taken care of.
#1: Leather Repair Kit
You can use a leather and vinyl repair kit. It will repair not only tears but also holes, scratches, and burns. They sell the kits in various colors of brown, gray, and black to match the existing interior color.
Be sure that the leather dye matches your interior. Choose a small area to test it on. If you don't see a color difference once it is dry, you know that the color will work.
The repair kit will come with everything you need to cover the tear on your leather seats.  This includes a patch, leather adhesive, and a piece of paper with instructions. There's no heat and no sticky application process. A liquid is applied to give you professional results. It also dries quickly, ensuring that you can handle the repair in just minutes.
The repair process is simple. Here's the steps:

Clean the seat with a mixture of warm water and soap.
Rub the cracked areas with denatured alcohol.
Wipe the area dry with a microfiber cloth.
Sand the cracked, ripped area with sandpaper.
Wipe the area again to remove any grit left behind from the sandpaper.
Once you have prepped the area, you can follow the instructions on the leather repair kit.
The leather adhesive works well. By the time you're done, you shouldn't notice that a seat repair ever took place.
Additionally, there are e-books and videos that you can watch to help you get the repair done properly.
#2: Sew the Tear Closed
If you have a considerable tear, a patch may not be suitable. This is when you may want to plan on sewing the tear closed.
There are a few things you need to help sew leather together:
Sharp scissors
Alligator clips
Curved upholstery needle
Thick nylon thread
You'll want to cut away any jagged edges. Then, you'll sew the tear back together. While it may create an additional seam, it can be one of the most effective ways to prevent further tearing.
The key to sewing a tear closed is to make sure that the nylon thread is thick enough. Otherwise, it will tear, leaving the rip exposed once again. Additionally, you want to make sure that the stitches are close together. If the stitches are spaced too far apart, you may see stuffing or foam come out of the gash.
#3: Super Glue
Believe it or not, super glue can be an easy way to fix leather tears on a car seat. Especially if the tear or crack is small, you can simply sew the edges together.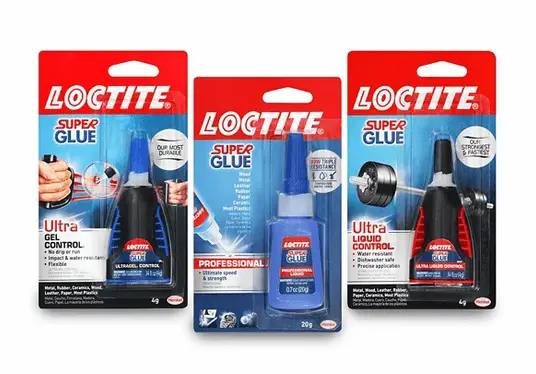 Before you get started, place a small piece of wax paper inside of the tear. This will prevent any glue from getting into the foam of the seats. Both edges of the tear should be pressed against the wax paper.
Place a few dots on the leather around the tear. Hold it together. Then, let it dry for at least a few minutes.
#4: Restoration Balm
There is a product that is known as restoration balm. It is a leather filler that can help with not only tears but also other problems such as fading and scratches. The product is available in various colors so that you can match it to the upholstery or trim within your car.
A palette knife can be used to help spread the balm all around, too. With this balm, it can be used as a preventative measure as well as if you have already had to fix torn leather. Often, tears can be prevented if you use the balm regularly enough.
Within minutes, you can have your leather seats looking like new again. You place the product on a circular cloth. Then, you move it over the leather in circles. It can breathe new life into the leather and help you to disguise patches, scratches, and more where the leather has worn away.
#5: Liquid Leather
You can find a product that is basically known as liquid leather. One such product is Leathercraft Cement. It is a quick-drying adhesive that can be used on leather and other materials.
When you have a small tear, whether it is along the seam or in the middle of the seat, you can use the water-based adhesive. The small applicator makes it easy to get the adhesive right to where you need it. Any kind of clip can be used to keep the seams together until the adhesive dries (which only takes a few minutes).
#6: Swatch of Leather
Another thing that you can do to repair a rip in the leather is to find a matching piece of leather. A swatch of leather can be found at craft stores as well as through various online outlets.
Once you have the swatch of leather, you can cut it so that it fits over the rip. You can choose to sew it into place or use glue. Especially if the leather is on the side of the seat or in a less conspicuous area, glue is the easiest. Let it dry for a few minutes before you try to use that particular area of the car.
How to Prevent Tears in Leather seats

Tears can happen when you least expect them. Suddenly, you look down and there is a puncture or tear in the leather.
Your first thought may be to replace the seats. However, it can cost hundreds (and even thousands) of dollars to replace the seats. Additionally, seat covers won't provide the luxury aesthetic you have grown accustomed to.
If you want your seats to look good, the goal is to do what you can to prevent tears from ever happening.
Here are 10 tips to help you prevent tears in your leather:
Condition and moisturize the leather regularly
Use drop cloths when transporting anything sharp (signs, tools, etc.)
Be cognizant of embellishments on clothing that could puncture the leather
Ask passengers not to carry anything sharp with them
Empty your back pockets before sitting in the seats
Use a sun cover when parking in the sun
Keep the seats and overall interior clean
Use car seat protectors under car seats and booster seats
Don't allow animals in the car without a seat protector in place
Place scissors and other sharp tools on the floor of the car instead of on the seat
By following these tips on a regular basis, you can prevent a number of issues from ever happening.
How to Fix Leather Damage Elsewhere in the Car
Depending on the make and trim level of your car, the leather may be found elsewhere throughout the interior. If you have damage, it's important to know how to fix it.
Some of the most common areas include:
Armrests
Door panels
Center consoles
Headrests
Most of the leather in these areas is extremely taught. You don't have the ability to pinch the tear together and clip it off. As such, you will only have a limited number of ways to make repairs.
Consider using liquid leather so that you can "paint" the separation back together.
Use a patch kit and sand the edges to help with the transition.
Replace the entire component that has been damaged.
How to Keep Leather Moisturized and Looking Good
Leather is capable of lasting for 15 years or more without cracking, peeling, or tearing. While you may not be able to prevent a puncture, there are things you can do to keep the leather in good condition.
There's even a homemade leather conditioner that you can make with baby soap, beeswax, and lemon essential oil. This way, you don't have to invest a lot of money into keeping your leather looking great.
Keep your leather out of the direct sun so that it isn't exposed to high temperatures
Keep abrasives away from the leather so that it doesn't get scuffed or cut
Clean spills immediately
Remove dirt and grime with a damp microfiber cloth
Brush the leather down with a dressing or cream or conditioner (designed specifically for leather) on a weekly basis
Moisturizing the leather regularly will help the leather retain its moisture. Otherwise, it will start to crack. Once you start to see deep cracking, tears and peeling are bound to happen.
It's also important to know what NOT to use on your leather. Some of the worst things to use include petroleum-based products, bleach, and other harsh cleaners, baby wipes, and even furniture polish. When in doubt, if it doesn't say specifically that it is safe to use on leather, don't use it. Stick to water or leather-safe products.
After cleaning your vehicle, consider using some dashboard protectant to guard against UV rays and sun damage.
Random Leather Tears Info

When you experience leather tears in a car seat (or elsewhere in a car), it's important to know what's going on. There are a few FAQs that you might have.
Can leather tear easily?
Leather is extremely durable, and it will last for over 15 years. The reason that leather will tear easily is that it has become dry and brittle or because it has been punctured.
Will leather continue to tear over time?
Yes. Often, once the tear is there, it will slowly start to tear – especially if the area is continuously in use. Even the smallest amount of pressure near the tear can cause the material to rip.
What's the fastest way to fix a leather tear?
A leather repair kit is going to be the fastest way to improve the aesthetic and prevent the leather from tearing any further. Depending on the kit, it will use instant adhesive or a low-heat method.
Will leather peel?
Leather has the tendency to peel sometimes if it is not kept moisturized. When it dries out, it will crack and peel. Additionally, using the wrong cleaning products can cause the leather to peel off.
Can you fix peeling leather?
Yes. However, you will want to start making the repairs as soon as you notice a problem. Scrape the loose bits off. Then, apply a new coat of dye and a new finishing coat.
Does it matter if it's real or fake leather?
Absolutely! Real leather is going to be more durable than fake/faux leather. As such, real leather will be harder to tear. As for the repair approach, it's important to look at the product. Some products are designed for genuine leather while others are specifically designed for pleather or vinyl.
When will repairs no longer work?
At some point, you have to be honest about whether a leather repair will work or not. When the rip is significant, you may not find a patch large enough. Additionally, if you have custom seats, it can be hard to get the necessary color match.
If you're not sure whether you can make the repair, contact a professional. If the rip is past the point of no return, you can get quotes for replacing the entire seat cover so that it matches with the rest of the interior.