 Choosing a new Ford racing crate engine for your car can be a daunting task but there are some great options available to boost the power of your vehicle. While engines are not cheap, you can certainly find one that is surprisingly affordable that delivers lots of horsepower while still keeping costs under control. A Ford crate engine may be the perfect answer  – you can drop a crate engine in your Ford without breaking the bank. And you'll avoid the hassle of picking through catalogs trying to source all your Mustang parts.
Crate Engines
A crate motor means the engine is factory built. You order it, it gets delivered, and you do not have to make any adjustments before installation. Its timing is pre-set, the engine is balanced, and it just needs to be installed. These factory-built engines can be bought to fit most budgets.  There are basic inexpensive race engines that up your HP but you can also buy high-end models that are considered top of the line, extremely powerful, and made specifically for racing. Racing crate engines cost more than standard ones but they also have a more powerful output. Whether you want street power or racing power, you can find a crate engine that meets your power needs and budget.
Why a Ford?
Purchasing a Ford crate engine gives you the power you want in your vehicle with most of the added parts included, like the oil pan and cylinder heads. The other great thing about these engines is that they don't have to go in a Ford. They can fit in other makes as well, as long as they are compatible. These racing crate engines are a great way to rev up whatever Ford vehicle you are driving.
Top 5 Ford Racing Crate Engines
1. 5.0L DOHC Aluminator Engine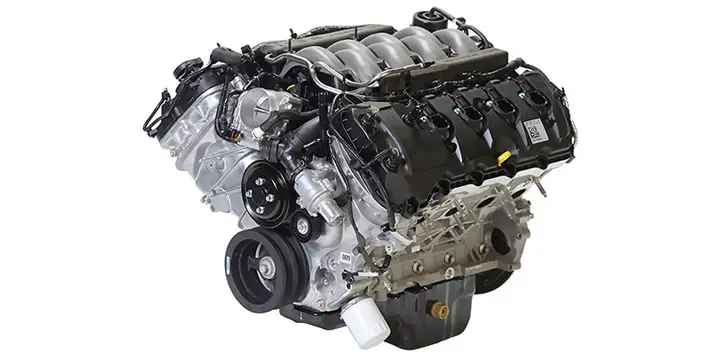 Source: Ford Performance Parts
This racing engine (M-6007-A50NAA) not only adds power but is also easy to work on when it comes to customization and mods. Works perfectly in cars such as the Mustang GT. It has a 5.0-liter block assembly and offers a compression ratio of 11.0:1. While the engine is pricey, it comes with many of the extra parts you need such as heads, bearings, and pistons, just to name a few. The warranty is two years or 24,000 miles so you are covered all round.
2. Roush 511 FE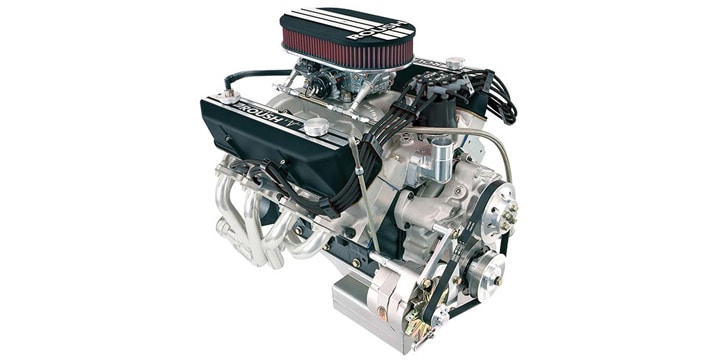 Source: Roush Performance
You can't get much better or more well known than Roush engines for Ford vehicles. This company is known for its high-end products and racing name and their small block crate motors for Ford are just as stellar as their other engine products. This crate engine has everything going for it – a Shelby block, Edelbrock cylinder heads, and a Holley 750-Cfm carburetor. It is drop-in ready so there will be no big expenses when it's time to put it in. This Ford racing engine gives you 600HP, 625 lb/ft for a great price. It has a two-year or 24,000 miles warranty, whichever comes first. Buying Roush means you're buying a product with a high-quality name behind it that's backed by both racing and production experience.
3. Kaase Boss
This power racing engine is going to give your Ford over 770HP at drop-in. It uses the newly introduced Kaase Boss 9-cylinder heads along with 850-Cfm carburetor giving you not only big HP but also 731 bl-ft torque as well. If you want more power with this racing crate engine, upgrade the cam and switch out for a Dominator carb which puts your HP over 900. This crate engine is going to put your Ford into a whole new category of power and style.
4. Ford Racing Boss 363
While this particular engine isn't the most powerful one on the list, it's going to get your Ford where you want it to go with speed using 500HP and 450 pound-foot. This motor is designed to fit most Fords without issue. While it is not completely drop-in ready, it doesn't need a lot of extras to get started. The price is reasonable, its power is solid, and, with a little work, it can get you on your way with some significant HP under the hood.
5. Ford 535HP Crate Engine with Z2 series cylinder heads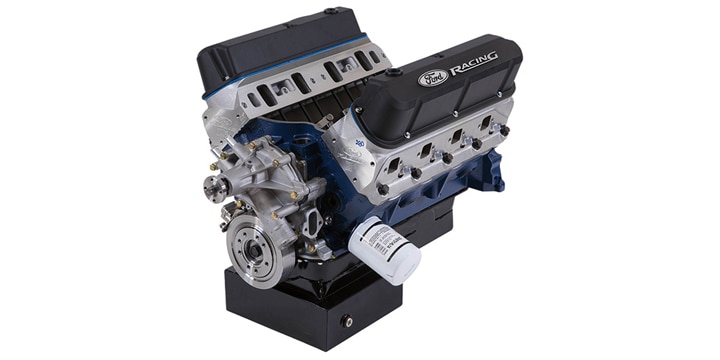 Source: Ford Performance
This is a Ford performance engine that will set you back on your heels, built for power and track performance. It put outs 535HP and 545 lb-ft of torque. Every piece of this engine is premium quality, from the bolts to the H-Beam. The Z cylinder heads and .594 lift hydraulic roller cam support the power and most of the parts, such as valve covers and oil pan, make it drop-in ready. The two-year warranty will cover any issues you may have. This is a great buy when you want a crate engine to power up your Ford.
Find more Ford racing parts here.
Final Thoughts
There are so many choices when it comes to finding an awesome, quality Ford Racing crate engine. The best thing to do is narrow them down by what you want in power and budget. No matter which engine you choose, remember, you can upgrade further with other engine parts to boost the power even further. Just be mindful of laws that may become problematic because some of these engines are meant for competition, not normal everyday road use. Power, noise, and emissions requirements differ across the country in both the United States and Canada. It is a lot of work and money to drop in a new crate engine only to find you may have problems with it legally. If you're covered as far at the legalities are concerned, you'll be hitting the road in no time with one of these great Ford racing crate engines.