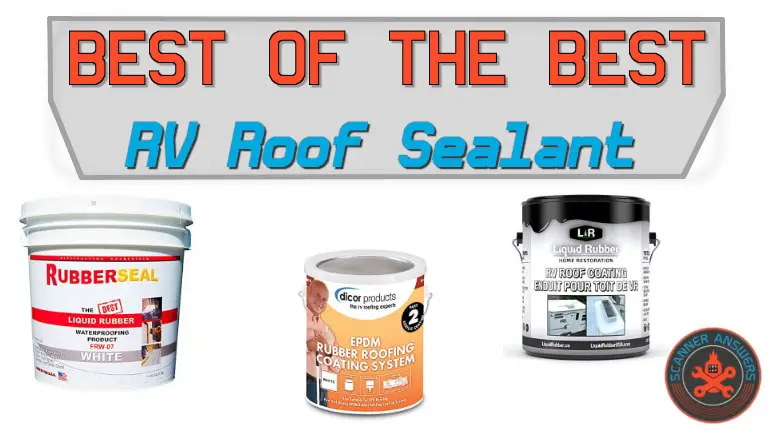 The rubber roof in your RV is a brilliant innovation. It's lighter than fiberglass and aluminum, and it offers up to 10 years of protection against the elements. But like all roofs, rubberized RV roofs need to be coated and sealed to offer longer-lasting protection. 
Think of it as applying wax or sealant over paint. In a typical car, the metal is layered in primer, basecoat, and a clear coat to protect the color from fading. It's the same deal with EPDM roofs. Do you notice those black streaks on the sides of your RV after it rains? Those black streaks are oxidized EPDM, meaning the roof is shedding a significant layer of the rubber roof.
But don't be alarmed! It's relatively healthy for an EPDM roof to shed after considerate UV exposure. But what happens next? The roof will continue to shed over the years until you get nothing but a plethora of holes and patches in your RV's roof. This doesn't sound good, right?
Fortunately, we have a solution – five, in fact. 
Here are the best sealants for EPDM RV roofs to further protect the material from rain and UV exposure.
Best Sealants for EPDM RV Roof
How do you seal an RV roof?
It depends on what type of roof your RV has. Over the years, newer RVs have transitioned from aluminum or fiberglass to vinyl and rubberized roofs. Sealing the roof means applying a rubberized, acrylic, or elastomeric coating. This coating protects against UV damage and water intrusion.
Sealing the roof consists of cleaning the roof panel (getting rid of dirt, debris, stains, etc.) and applying a sealant over the roof. 
After sealing the roof panel, applying a self-leveling lap sealant on the roof edges, air vents, screw heads, and vent pipes add a final layer of protection against harmful elements. 
What is an RV roof sealant?
Roof sealants for RVs are like roof sealants for home and commercial use. The difference is the specific weight of the product. The reason many RV manufacturers prefer EPDM or TPO rubber roofs is the weight savings. With that being said, aluminum and fiberglass roofs are relatively maintenance-free. Still, they add weight and complexity to the entire setup. 
However, RV roof sealants are composed of either elastomeric or water-based formulas that adhere to the roof's surface. It's like having an invisible layer of protection or 'umbrella' on top of your RV, which is applied to enhance UV protection and guard against harmful water intrusion. 
What are the different kinds of rubber roof protectants?
When it comes to RVs, we only use two types of rubber roof protectants: 
Acrylic coatings (like Dicor's EPDM Rubber Roof Acrylic coating)
Water-based elastomeric sealants (like Rubber Seal and Liquid Rubber)
But for the most part, EPDM RV roofs need to be pre-treated with a separate cleaner or activator. These cleaners are formulated to alter EPDM's molecular composition. This is followed by the actual acrylic or elastomeric coating for maximum adhesion. 
How do I apply the RV roof sealant?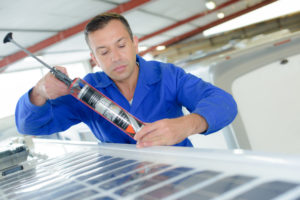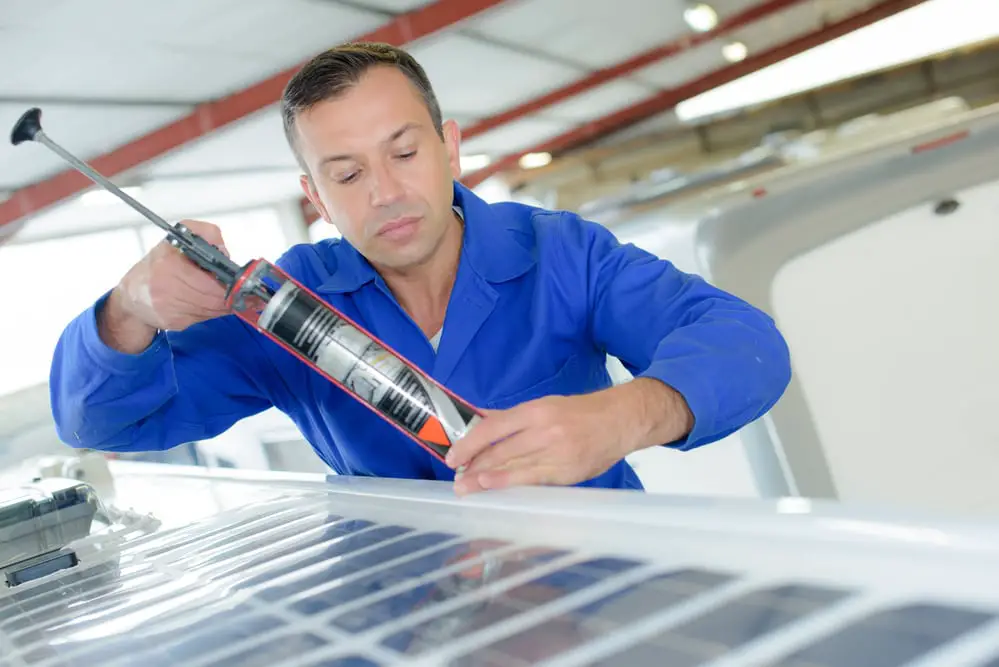 It depends on what type of roof sealant you're using. In this example, let's assume you're using Dicor's acrylic rubber roof system. The primary step is to always clean the roof using water and mild car shampoo. Yes, we use car shampoo to clean EPDM RV roofs, and we get great results by doing so. Of course, it's also best to remove all traces of debris like leaves and pine needles. 
The next step is to apply Dicor's EPDM cleaner activator. You'll need to use an agricultural sprayer to apply the product over the entire roof surface. It's better to install plastic sheeting on the sidewalls as the product may damage non-rubber parts. 
After spraying the product, allow to soak for 15 minutes and wash off the excess using clean, pressurized water. By this time, the roof will have a cleaner and whiter appearance.
Next, apply Dicor's EPDM acrylic EPDM coating using a paintbrush or roller. Apply two medium coats for protection. Make sure to allow the first coat to dry before applying a second coat. Allow to dry for at least three to four hours and leave to cure overnight. 
The final step is to apply a lap sealant on the roof edges. It's also a great idea to apply sealant around air ducts, air vents, and screw heads. 
How often should I seal my RV roof?
Did you know that water damage is the most common cause of RV roof repairs? A small leak can expand to more significant holes, which means more hours and money is required to fix the problem. 
This is the reason why seasoned RV enthusiasts recommend inspecting and resealing your RV's roof at least once a year. 
More than preventing water from entering the interior of your RV, periodic sealing ensures all the equipment on top of your RV's roof is secured. It's a good idea to inspect the roof caulking around skylights and roof vents. It's time to reapply a nice layer of lap sealant to prevent more significant leaks from happening if you see signs of cracking or chalking. 
Is Flex Seal good for

RV

roofs?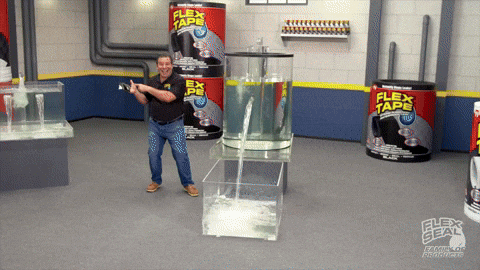 Yes. Flex Seal is handy for immediate spot repairs. It works as well as other lap sealants but does not require surface prep to work correctly. 
But, Flex Seal is not a permanent repair solution. It's only a temporary fix.
Moreover, Flex Seal is ideal for all types of RV roofs, including rubberized EPDM or TPO, metal, fiberglass, and vinyl. We won't necessarily prescribe Flex Seal for RV roofs, but for emergencies or quick spot repairs, using Flex Seal is better than nothing. 
As I said, small leaks can drastically turn into big money pits if not addressed immediately. Having some Flex Seal is the fastest way to seal a pesky leak if you're camping in the Alaskan wilderness. 
We wrote more RV rubber roof coating reviews if you're still on the hunt for the perfect product.