Veepeak Mini WiFi OBD2
Summary
The Veepeak Mini WiFi OBD2 scanner is compatible with all OBD2 vehicles, and we certainly love the price. You can read/clear DTCs from your iPhone or Android device. It's a great addition to the toolbox for the weekend warrior DIY'er, or anyone who wants to know how their vehicle is running. If you want a compact, wireless scanner that won't hurt the wallet, this OBDII scan tool is worth a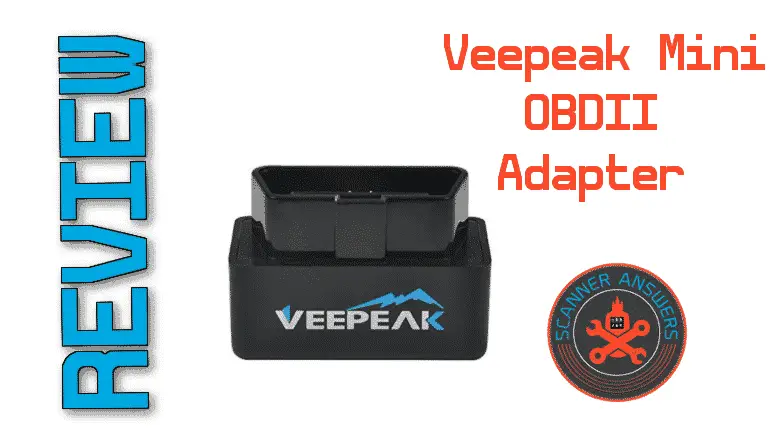 ScannerAnswers' Veepeak Mini OBDII Scan Tool Review
At ScannerAnswers we like automotive repair tools capable of bringing huge benefits. That's why the Veepeak Mini OBDII Scan Tool Review was a favorite around the office! …And it's no small wonder why we love the Veepeak Mini OBDII Scan Tool. We're not cheapskates here (well, Vince G is pretty cheap…), but the cost of this OBD2 diagnostic scanner is almost too low: 'Less than an oil change…' You read that right. Actually, it costs less than that, as other stores sell it for less. Here's where you can get this amazing scanner for less than a tank of fuel
But don't let the price fool you. As we previously mentioned, we like small gadgets that deliver a power-packed performance, and the Veepeak Mini WiFi certainly delivers.
If you're considering buying an OBDII scanner, then there are a couple reasons we recommend the Veepeak Mini.
1. Compatibility: You need to make sure that an OBD2 scanner is compatible with your vehicle. The OBD2 protocol utilizes five (5) known protocols, with the latest being CAN (Controller Area Network) or CAN-BUS. This protocol is generally used by vehicles manufactured from 2008 onwards, but it isn't uncommon to find newer vehicles that use a combination of two protocols. This is the reason why it's imperative to choose an OBD2 scanner that is compatible with all known OBD2 protocols.
2. Price. Let's face it. One of your primary reasons for buying your own OBD2 scanner is to save money on diagnostics and repair, right? So it's better to choose something that you can actually afford. Some OBDII scan tools can cost thousands of dollars, but most of us don't need a mechanic-grade tool… For most of us, twenty bucks can purchase a scanner that does everything we need.
Fortunately, the Veepeak Mini WiFi OBD2 code reader for Android and iOS conforms to both compatibility and price.
Bottom Line
Very Affordable wireless scanner lets you hook up your Android or iPhone to you car! Troubleshoot engine problems with live sensor data – Works with most Ford, Dodge, GM, Toyota, Honda, vehicles made after 1996
The Veepeak Mini Diagnostic Code Reader is Compatible with All OBD2 Protocols
The Veepeak Mini Wifi for Android, Windows and iOS is compatible with all model year 1996 and newer cars, including light trucks and minivans sold in the United States. This product will work on all American, European and Asian vehicles sold locally, so if you live outside the US you better check with Veepeak if the product is compatible with vehicles sold in your market. But as far as we're concerned, this device supports all five OBD-II protocols, namely:
1. J1850 PWM
2. J1850 VPW
3. ISO 9141-2
4. KWP2000; and
5. CAN or CAN-BUS.
The Veepeak Mini WiFi OBD2 Code Reader is an Impressively Versatile Scanner
OBDII scanners fall in two main categories: Corded and Wireless (Bluetooth or WiFi)
Get the best deal on a Veepeak Mini from Amazon
Now, it used to be that when you purchased a code reader (for thousands $$$), you had a bunch of cards for each car model (Ford, Chevy, etc) and you had to pack around a suitcase worth of equipment! Scan tools have come a long way!
Corded OBD2 scanners are usually plugged into your car/truck's OBD2 port, and then display the DTC and engine data on the screen of the OBDII tool. These scanners work well if you don't need to drive your car to get the Check Engine Light to show up, or don't want to mess with syncing your phone to a wireless OBD2 scanner.
Wireless OBD2 scanners do away with the wires. All you have to do is plug the "adapter" (like the Veepeak) into your car's obd2 port, and then sync it up to your phone. Then your phone immediately can show you what's going on with your vehicle! Sound difficult? Don't worry, pairing your phone with the OBDII tool is quick and painless.. even for us technically challenged folks 🙂
Enough rambling about wired and wireless! What you need to know about the Veepeak Mini Scanner is that it can hook up to your iPhone and/or Android phone! Now this is one of the most impressive features that we found. Usually when we test wireless OBD2 scanners, we can't use Vince's iPhone 5 because it's not supported. But with the Veepeak, you can use your Samsung Galaxy, Droid Razr, iPhone, iPad, etc, to read and clear diagnostic trouble codes! And since there are no wires to think about, you are free to roam the garage or drive the car (careful doing this!) as you monitor your car. We've come a long way since the scanners of yesteryear, and we love it.
Did you know that the Veepeak was featured in our guide to the best scanners for Chevy and GM? Yeah, it's that good!
The Veepeak can do much more than scan and read trouble codes. You can also read certain vehicle parameters such as:
Engine RPM (Revolutions per Minute)
Average fuel consumption
Fuel pressure
Vehicle speed
Intake manifold pressure
Air intake temperature
Throttle position
You can see all that info (and more depending on your vehicle model) using your smartphone or tablet. Pretty cool, right? However, you need a third party app to get things rocking', and the Veepeak seems to work fine with popular apps such as Torque Pro and Carista, although you'll need to buy the paid version of each app to get the full features. Nevertheless, The Veepeak Mini WiFi works flawlessly no matter what app you choose.
For your reference, this product will work on the following applications:
1. DashCommand (Android)
2. Engine Link (iOS)
3. EOBD Facile (iOS)
4. OBD Fusion (Android)
5. OBD Car Doctor for iOS
6. Torque Lite/Pro for Android
This device gives you the power to diagnose or determine the cause of the check engine light in your vehicle. That will already save you money, since mechanics will charge you upwards of $50 to scan the problem, and that doesn't include the cost of labor and parts. With this baby, you can determine the problem even before going to the shop. If the problem is easy to fix, you can even do it yourself. Fancy saving an average of $200 for a simple repair job? That's the reason why you need a vehicle scanner, and is also a crucial factor why you should consider the Veepeak Mini WiFi
Product Features
Here are the product features of the Veepeak Mini WiFi OBD2 scanner:
Compatible will all OBD2 vehicles sold in the United States, including newer cars that use CAN or CAN-BUS protocol. Will also work on light trucks, SUVs and minivans, whether domestic, European or Asian import vehicles.
Remarkably easy and simple to use. Works via WiFi, and is compatible with your Android, Windows or Apple iOS device. Your smartphone or tablet can also be used as a vehicle scanner using the Veepeak Mini WiFi.
Provides sensor data in real-time, so you can monitor critical factors such as engine RPM, coolant temperature, fuel system status, intake manifold pressure, timing advance, absolute throttle position and much more.
The product comes with a 30-day money back guarantee, and a 12-month replacement warranty so there is no risk.
Things we liked:
Probably our favorite "feature" of the Veepeak was the price. For $20, you can get a tool that can save you hundreds! I mean, it's cheaper than a case of beer! (well, I guess that depends if it's Bush Lite or not 😉 ). The ability to read and clear DTC's from the convenience of a smartphone is pretty awesome. It's perfect for the curbside mechanic, or the DIY'er that wants to make sure his/her car is running it top shape.
Things we did not like:
When he connected Vince's iPhone 5s using the WiFi, it disconnected from the internet! This was mildly frustrating, but not that big of a deal. Just a heads up in case you wanted to browse Facebook or look at cat pictures (what!?) while fixing your car. Also, we heard of a guy who's device shorted out and drained his battery. So if you plan you leave it plugged into your car 24/7, make sure to purchase an adapter with an off/on switch. Also, keep in mind, this is a basic OBD2 reader… So you probably won't get features like ABS/SRS, live data, and you might have to buy a $5-10 dollar app to unlock all the features.
Conclusion
The Veepeak Mini WiFi OBD2 scanner is compatible with all OBD2 vehicles, and we certainly love the price. You can read/clear DTCs from your iPhone or Android device. It's a great addition to the toolbox for the weekend warrior DIY'er, or anyone who wants to know how their vehicle is running. If you want a compact, wireless scanner that won't hurt the wallet, this OBDII scan tool is worth a try.
We had a blast writing this Veepeak Mini OBDII Scan Tool Review and hope it answered any questions you had about this scanner. If you have any questions, drop a comment below! Check out more of the best OBD2 scanner reviews HERE and Wireless OBDII adapters reviews. Or check out our guide to finding the best iPhone OBD2 adapters here
-Mike