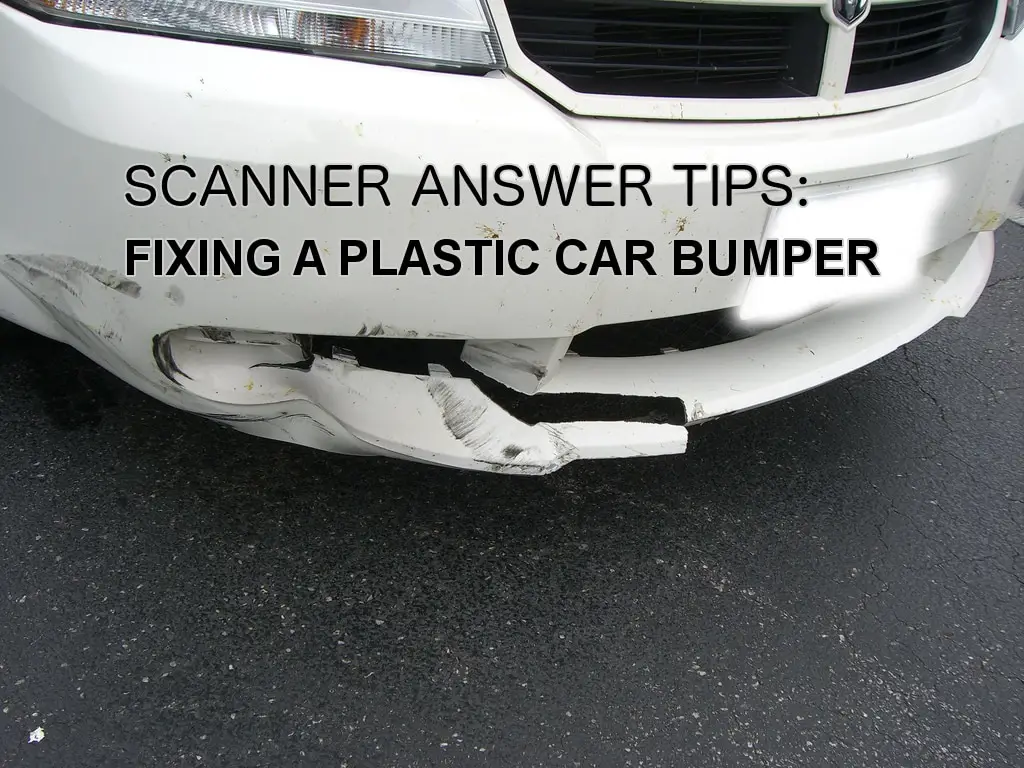 Fixing the plastic bumper on your Car or Pickup
Mike with Scanner Answers here to discuss car and truck bumpers. These are different than OBD2 scanners but still an important part of your car.
Most new cars and SUV's utilize plastic bumpers for lightness and rigidity. Most of you might not remember the time when mass-produced vehicles were equipped with steel bumpers from the factory (anyone remembers the Ford Crown Victoria from the 1990s?).
While plastic may not provide much protection in the event of a collision, it is important to know that plastic car bumpers serve an aesthetic purpose above anything else. This material is relatively lighter and easily repaired in the unlikely event of an accident.
Plastic car bumpers are designed to be flexible. With that being said, plastic bumpers should go back to their original shape when outside pressure is applied. But excessive force may cause dents, cracks, and scratches.
While minor dents can be easily repaired on any given weekend, cracks and deep scratches may require aftermarket repair products (sanding, priming, and painting) to restore the area to like-new condition.
The following provides the steps you'll need on how to fix a plastic car bumper. But first, you will need to determine if it is worth your time to repair the plastic bumper rather than replace it with a new one.
Repair or Replace?
If the plastic bumper was deformed beyond recognition, then the best remedy would be to replace it. The same goes for major cracks and tears to the plastic surface. Minor scratches (along with small cracks and tears) can be repaired with the use of plastic repair products that can be easily bought at the nearest hardware or auto parts store. But not all plastic bumpers are the same.
Car manufacturers utilize different kinds of plastics that are only compatible with specific repair products sold on the market.
So, how do you determine the type of plastic bumper utilized in your particular vehicle? Remove the plastic car bumper and look for specific markings inside the bumper. The kind of plastic utilized should be stamped on the backside. This could either be PP (polypropylene), TPE (thermoplastic elastomer) or PPO (polyphenylene oxide). These plastics can smear easily when machine sanded. Plastics that produce powdery residue when sanded or grounded can be classified as PUR (polyurethane plastic rigid) and TPUR (thermoplastic polyurethane elastomer).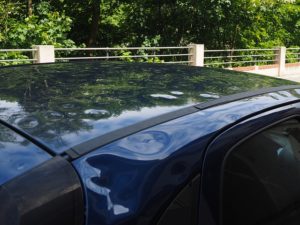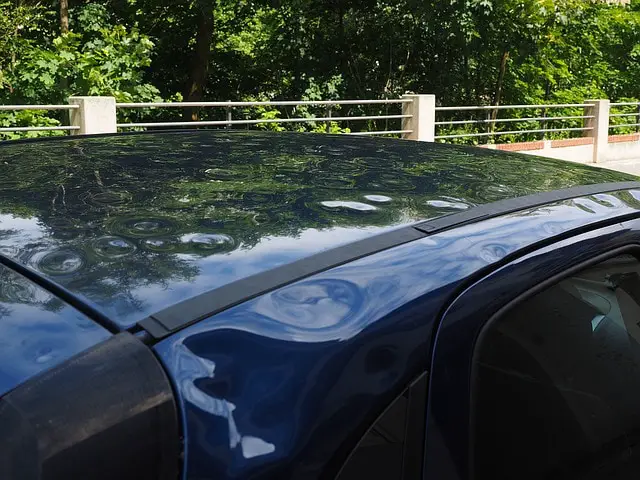 If you are looking to repair severe damage to your plastic bumper, you should buy a repair product that is compatible with the type of plastic used in your vehicle. This alone can save you a lot of time and money.
How to Fix Dents on Plastic Car Bumper
There are a variety of ways on how to remove dents on a plastic car bumper. Keep in mind that it would be best to remove the whole bumper cover to easily facilitate the repair process. This process might prove tricky as plastic bumpers are held on to the body by the use of screws, nuts, bolts, and fasteners. Take your time to thoroughly map the location of these fasteners to easily remove the bumper cover from the body.
You will need:
Hair dryer or hot air gun
Hand gloves
Piece of terry cloth
Small wooden block (optional)
Pot of boiling water
Step One – Push the Dent Out
Try to push the dent out with your bare hands by accessing the opposite side of the dent. Some dents will pop out this way. But don't push too hard, either. Give it a slight nudge. You might be able to remove minor dents using only your bare hands.
If not, try to use a hair dryer or hot air gun and point it directly at the dented surface. Maintain a reasonable amount of distance between the hair dryer and the plastic surface. It will usually take less than 5 minutes of heating for the bumper to be pliable enough to get rid of the nasty dent.
Use a wet terry cloth towel (or a small wooden block) to push the dent out when the surface is thoroughly heated. Do this sparingly. Try to view the bumper from various angles to see if the dent has been removed. You may also use a hot-air gun for stubborn dents but be wary of the painted surface as excessive heat may burn the paint.
Step Two – Hot Water Method
This method has been proven effective to remove minor dents or "waves" from the plastic surface. With the plastic bumper removed from the body, pour a nominal amount of boiling hot water to the inside part of the bumper.
Move the bumper from side to side to dissipate the hot water over the entire surface of the bumper. Place the bumper on a table and use a folded terry cloth towel to push the dent out. It would be best to use a massaging motion while doing this process. Do the same process as if removing wax or polish from the surface. Remember to use gloves while doing this. Be careful not to burn or scald yourself in the process. Do not pour hot water directly to any painted surface.
Remove the hot water and let the bumper cool. View the plastic bumper from an angle to check if the dent is removed. Repeat the process when necessary. Remember to let the bumper cool before repeating the entire process.
Step Three – Dry Ice Method
You might have heard of this method before. The principle is quite simple, actually. Rapid heating and cooling of the plastic surface will cause most dents to pop back into shape.
All you need are hand gloves, a hair dryer, some dry ice, and a piece of aluminum foil. The first step is to heat the damaged area using a hair dryer. Next, put on your safety gloves and grab a small block of dry ice and place it on top of the dent. You can use a thin sheet of aluminum foil to insulate the paint from frost damage.
It shouldn't take too long for the dent to pop back into its original shape. If the dent was only partially repaired, simply reheat the bumper and repeat the steps mentioned above. This method will work great on shallow and minor dents, and there is no need to remove the entire bumper from the frame.
As an added tip, the dry ice method will also work on dented metal surfaces.
Conclusion
When money is tight, it is best to fix your own plastic car bumper. You will not only save money, but you will make yourself proud for solving a nasty problem that you previously thought was only possible by hiring the services of a professional.