Summary
At ScannerAnswers, the guys and I get to try out tons OBDII scanners. If you're looking for a hand-held OBD2 tool that can read/clear codes, display live data and freeze frame info, and costs less than $50 bucks, this is a great option. Make sure to read the manual because it's not as simple as tools like the Autel MS300 that only have 2 buttons 🙂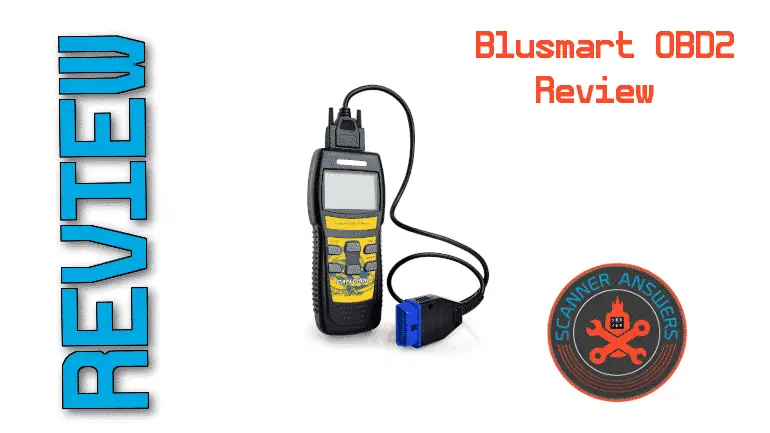 *

Update for 2018

– This scanner is no longer available. I'd suggest grabbing an Android scanner or iPhone adapter!
Mike here with ScannerAnswers.com to bring you the No products found.. If you're in the market for a hand-held, reliable OBD2 scan tool that can display live-data, freeze frame data, and works with nearly every car produced, then the Blusmart might just be the perfect OBDII scanner for you!
Blusmart CAN/OBD2 scan tool – Hands On Review
If you're curious about the difference between EOBD and OBD2, it's not too complicated. Basically EOBD stands for, European On-Board Diagnostics. It's a standard that was developed and put in place by car manufactures in Europe beginning in 2001 (diesel vehicles were added in 2003). OBD2 is of course another standard and applied to United States car makers from 1996 onward. So technically, there is not difference in the two. Here's some more info if you're curious: http://www.gendan.co.uk – Anyway, you came here not to get hung up on boring vehicle standards… So on to the Blusmart Review!
No products found.
Main Features of the Blusmart
Vince and I got to test this scanner out on our neighbor's 2006 Ford Focus ZX4 and our friend's 2010 bmw 328i. While this is obviously not a comprehensive test of every vehicle made, it's the best we could do 🙂
Here are 3 of our favorite features: 
Efficient and User Friendly – whether you are a DIYer, weekend warrior mechanic, or have been in the industry for 10 years, you'll be able to plug in this scanner and get right to work!
Ease of use – if you've been searching for a plug and use OBD II device, then this is the perfect product. It needs just to be plugged, then you are pressing one button and nothing more, the data reading is started. No messing around with different cards for different cars. And because it plugs right into your OBD2 port, you don't have to worry about wireless connections or syncing it with your phone like other tools require.
Freeze Frame data – If you're hunting down a pesky DTC, then Freeze Frame is a life-saver! Freeze Frame will do exactly that…. So when that code pops, you can view crucial data like RPM, Engine Temps, O2 levels, etc. This is helpful whether you're getting a code towing that gooseneck through the Montana passes, or working on your buddy's Honda k20a VTEC Engine that just isn't stomping V8's like it should.
No products found.
Bottom Line
View live engine and sensor data – Freeze data for later viewing – Instantly know if you can pass vehicle inspections with Emission readiness testing – Support for most cars and trucks made after 1996

Other features of the Bluesmart (that are also pretty not bad)    
Size – If you're looking to get a bicep pump, this tool isn't the right option. Coming in at only 13.6 oz, we found that it wasn't very helpful for bicep curls…. Never-the-less, Ronnie's girlfriend had no trouble maneuvering it around the car 😉
Coverage – this scanner works on nearly all of 1996 and newer cars plus some light trucks and even some diesels.
Wide language support – We didn't test this feature because we only know English (and some basis phrases in Spanis), but this OBDII tool supports lots of languages: German, Italian, French, Czech, Spanish, Turkish, Finnish, Hungarian and Polish.
I/M Check – Gotta take your car to get the emissions checked out? This little guy will tell you if you can pass it or not!
Update-able (?) – Is that a word? Maybe not…. Regardless, you can quickly update firmware and new code descriptions from your computer.
Sound like some features that you could use to fix your car? You're dang right! With this diagnostic scanner we were able to plug it into our Ford Focus to see why it had the CEL on. Within seconds the Bluesmart flashed us a P0301 code. Hmmm, a quick search on the internet (Google!) revealed that it's likely an issue with a misfire on cylinder. So we popped the hood, looked around, and what-do-you-know…. A darn rat or mouse had chewed threw one of the spark plug cables! Ha, I guess the car had been sitting too long and became a snack/house for some little critter. Anyway, after a quick trip to Autozone we were able to fix the wires and reset the code. The old Ford has been running like a top ever since!
Here's some things that we like (Pros):
Affordable – The price is right for this scanner. Coming it at less the $50 bucks, you'll be able to afford it without breaking the bank. This tool will pay for itself in no time! Think of it as an investment in your future!
Robustness – I'm looking down at my greasy hands thinking about the torture that my tools go through on a daily basis. So it's important for me, that my tools can hold up to the day-to-day grind of mechanic work. And I'm convinced that the Blusmart fits the bill
Feature Packed – For the price of this scanner, you're getting some awesome tools to not only geek out on your car, but see exactly what's happening inside. Freeze Frame, Emission readiness, and Code clearing make this one of the best tools you could add to your toolbox
No products found.
Things that we did not like (Cons):
Lack of Warranty – We like to see a warranty on OBD2 scanners because it provides a peace of mind… but the Blusmart doesn't seem to have one. Sure, you get 30 day money-back coverage from Amazon, but most companies like Innova and Autel back their scanners with 1-3 year warranties.
Fake Products – We did not experience this personally, but it sounds like there are some cheap "reboxes" of this scanner floating around. Make sure that if you purchase it, you buy one that is "fulfilled by Amazon"
Conclusion
At ScannerAnswers.com, the guys and I get to try out tons OBDII scanners. If you're looking for a hand-held OBD2 tool that can read/clear codes, display live data and freeze frame info, and costs less than $50 bucks, this is a great option. Make sure to read the manual because it's not as simple as tools like the Autel MS300 that only have 2 buttons 🙂
Hey I hope this Blusmart Review helped your decision on investing in an OBD2 scanner. If you have any questions, please leave a comment! If you're still looking for that perfect OBD2 scanner, check out our: best OBDII scanner buying guide
-Mike