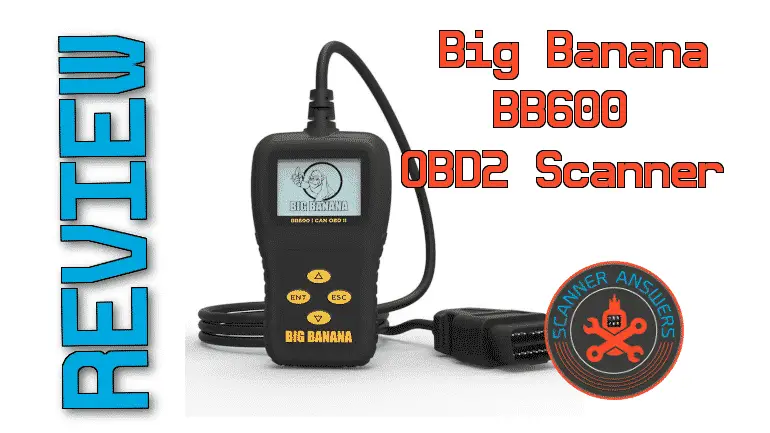 Big Banana BB600 Review – OBD2 Scanner
(2023 Update) This legendarily-named scanner is no longer available 🙁
We'd suggest instead grabbing an Autel MS300 or Innova 3100i.
---
The Big Banana BB600 OBD-II CAN Diagnostic Auto Scanner has a comical and lengthy name, but this device is packed with awesome features for the price. We were impressed by this feature-packed device when writing the Big Banana BB600 Review. Best of all, this sleek piece of kit has the ability to scan, read and reset a wide variety of check engine codes including generic trouble codes and manufacturer-specific trouble codes.
Are you looking for an affordable OBD-II scanning tool that is easy to use, yet packed with professional-grade features? Look no further.
This baby is more than just a simple code reader. Yes, it can read trouble codes on OBD-II equipped vehicles, including the CAN protocol on 2008 and newer model cars. But compared to other similarly-priced bargain scanners, this banana can do so much more. You see, the Big Banana BB600 OBD-II CAN Diagnostic Auto Scanner Code is designed to give more expensive scanners a run for their money. It does this by providing live engine and freeze frame data in an easy to use and ergonomic package.
Pick up yourself a Big Banana BB600 right here from Amazon
Bottom Line
Very simple and easy-to-use Corded OBD2 scanner – Read and clear CeL light codes – Check emissions readiness, VIN number, and freeze frame datas – Affordable!
Oh, and did we mention that the Big Banana BB600 is ? That's more than half of what you can expect to pay for, let's say, an expensive wireless Bluetooth scanner with sluggish performance and a limited amount of features. And we're not the only ones who fell in love with this banana, because it consistently gets high ratings from everyone who use it!
But that's just the tip of the iceberg. The Big Banana BB600 is also equipped with a modest LCD screen that allows you to read on-screen code definitions and descriptions. How's that for an OBD-II scanning tool and code reader for less than a hundred bucks? Pretty good, right? But don't just take our word for it. Keep reading this Big Banana BB600 Review so you can learn more about this awesome scan tool.
The Big Banana BB600 OBD-II CAN Diagnostic Auto Scanner Can Do More Than Just Read and Erase Trouble Codes
We love the multifaceted nature of the Big Banana BB600, because this baby can do more than just read and erase trouble codes.
It can give you on-screen diagnostic trouble code descriptions and definitions so you don't need to consult a service manual or look up the meaning of the trouble codes online. With a simple push of a button, you can scan and read the diagnostic trouble codes in your vehicle and know the meaning of the code in an instant. It takes the guesswork off any troubleshooting job. Marvelous, isn't it?
You have to understand that due to the complex nature of newer cars, carmakers use a combination of one or more OBD-II protocols depending on the year model of the vehicle. This means that there are various sensors inside the engine that can't be found on other model vehicles, even if both cars are OBD-II compliant. This is not a problem with the Big Banana BB600 OBD-II CAN Auto Scanner, because it can read CAN or CAN-BUS protocols and display the meaning of the trouble code in the screen, saving you time and money.
The Big Banana BB600 OBD-II CAN Vehicle Scanner is Ergonomic and Easy to Use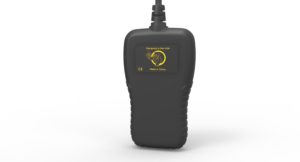 We like the easy-to use interface of the Big Banana BB600. It only has 4 navigational buttons and a large backlit LCD screen. There are smartphones that are more complicated to use than this device, and none are as ergonomic as this scanner.
Sure, the all black finish is considered dull by some people, but the material offers a rubberized feel to provide an extra amount of grip when you use this device with greasy hands. At least the buttons are finished in yellow with the same rubberized texture, making the device seem as playful as its name.
It is also compact and light enough to take anywhere. It can fit inside the glovebox of your car for easy storage. You might say that Bluetooth scanners are smaller and more compact, but remember that you have to use your Android phone, iPhone/iPad or laptop to communicate with the Bluetooth device. Measuring a mere 8-inches in length and weighing in at only 10.4 ounces, the Big Banana BB600 is a lightweight in the world of heavyweight contenders.
Product Specifications of the Big Banana BB600 OBD-II CAN Auto Scanner
There are a lot of affordable code readers in the market, but only a few can provide on-screen diagnostic trouble codes and error code descriptions like the Big Banana BB600.
The on-screen code definitions feature will allow you to instantly determine the name of the trouble code instead of just giving you a mishmash of numbers and letters. You don't need to consult a separate repair manual to determine the diagnostic trouble code. The Big Banana BB600 can do that with a simple push of a button.
It can retrieve diagnostic trouble codes including generic codes and manufacturer-specific error codes, including multiple or pending codes.
The Big Banana BB600 will work on all OBD-II protocols including CAN, so you can diagnose 2008 model and newer vehicles without using a separate scanner.
It can also display freeze frame data and live data parameters including engine RPM, engine coolant temperature, oxygen sensor data, vehicle speed and so much more. If you are tuning your car to add more performance, the Big Banana BB600 can monitor any specific changes to the engine so you can further assess the performance potential of your vehicle.
The Big Banana BB600 can also read and display the VIN number of your vehicles, including calibration ID numbers and CVN (Calibration Verification Number).
The BB600 has an I/M readiness feature that offers a snapshot of the emission systems of your vehicle so you can gather emissions-related data without leaving your garage.
Final Thoughts
The Big Banana BB600 OBD-II CAN Diagnostic Auto Scanner Code Reader Reset Check Engine Light Code Scanner with Live Data offers an amazing array of features at an affordable price. The user-friendly interface makes this ideal for novice or intermediate users, but the power-packed features are enough to satisfy the demands of professional mechanics. However, this device is not designed to read ABS, SRS/airbag and TPMS trouble codes. But for the price, it is hard to ignore the Big Banana BB600 Auto Scanner. I picked up my Big Banana 600 here, and you should too 🙂
We hope this Big Banana BB600 Review answered all your questions about this OBD2 scanner. If it's not the perfect OBD2 scanner for you, we want to help you find the best OBD2 scanner. Just click the link, or leave a comment!
Mike out.