Actron CP9690 Elite
Summary
The Actron CP9690 is a premium scanner that is capable of reading both OBDI OBDII! This makes it an excellent choice for a professional mechanic or an amateur enthusiast. The CodeConnect feature allows for rapid diagnosis of problems and saves both time and money. Realtime data logging. This allows data to be saved and sent to a computer. This is an advanced scanner designed for mechanics… But for someone who is a novice at repairing vehicles, the Actron CP9690 can make diagnosis and repair much less intimidating.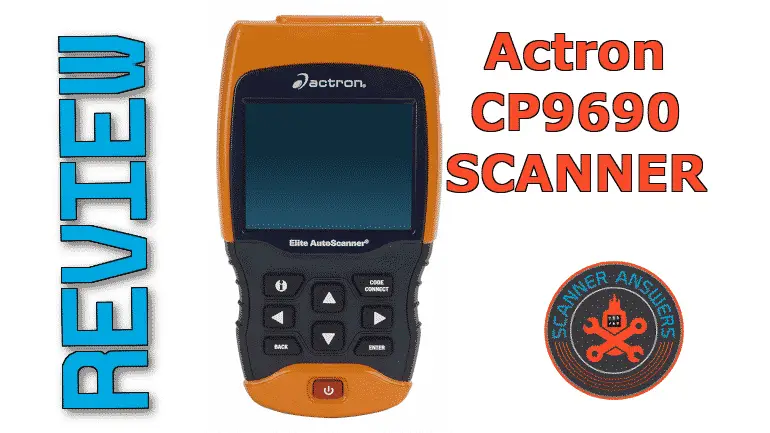 Hands-On Review of the Actron CP9690 Elite (Jan. 2023)
If you need a scanner that works with OBD1 and OBD2, then check out the Actron CP9690! This baby will set you back a few dollars, but it's gonna be the last OBD scanner you'll need for a long time.
Bottom Line
OBD1 and OBD2 support! Comes with OBD1 cables! Professional-grade OBD2 tool lets you record live engine data, and play it back from a Computer for further troubleshooting. Reads and clears CeL, ABS, SRS codes on most Domestic and Import vehicles – Resets OIL and BATTERY lights
An OBD1 scan tool? I didn't think they exist!
That's right, if you have been scouring the internet for a new OBDI reader, then you've gotta take a look at the Actron CP9690. It comes with all the cables and adapters needed for most vehicles that utilize OBD1.
For most us a scan tool with basic features is sufficient for our purposes. Checking and clearing trouble codes on our family cars is all we use them for. However, for the small repair shop or the home hobbyist mechanic, a more feature-rich machine can pay dividends by streamlining the actual process of troubleshooting Diagnostic Trouble Codes (DTCs) and repairing the root problem. For those that enjoy modifying and tuning their vehicles, the ability to log data in real time and store it for future reference is also useful. Many of these features tend to be reserved for larger professional devices. However, the Actron CP9690 provides them as well as many other features in a compact, portable format. In this article, we're going to give you our Actron CP9690 Elite review because we truly believe that this OBD2/OBD1 scanner will improve your mechanic life!
Key features of the Actron CP9690 OBD2 Scanner
Pick up yourself a 9690 here at Amazon
. As is expected of a premium scanner, the Actron CP9690 comes with must-have features. Probably the most useful of these is
CodeConnect
. CodeConnect is a database containing over 26 million verified fixes for DTCs. When a DTC presents itself, CodeConnect can show the user a list of possible causes as well as the most common fixes making actual troubleshooting a quicker, more efficient process. This is backed up with a locator feature which describes where various components are located on the vehicle and gives a name description of Parameter Ids, again for quicker interpretation of data. This is one of the most useful features we've found on any of the OBD2 scan tools that we have reviewed.
Other features


There are plenty of OBDII scanners on the market; however, OBDI scanners are much less common. In addition to full OBDII compatibility for vehicles from 1994 to present, Actron CP9690 can also read DTCs for OBDI compliant 1984-1996 vehicles from GM and Ford, and 1989-1996 Chrysler and Toyota vehicles. As OBDI diagnostic ports are not standardized the scanner comes with appropriate cables to interface with these vehicles. Other great features is the ability to read and clear ABS and Airbag DTCs for many different vehicle and the ability to reset oil change lights, and battery lights. The Actron CP9690 offers a trilingual (English, French, Spanish) readout.
Specifications
Compatible with ALL 1996 and newer import, domestic, diesel and hybrid vehicles (OBD II & CAN), as well as 1994 and 1995 OBD II compliant vehicles
Includes OBD I Cables for 1984-1995 GM and Ford vehicles and 1989-1995 Chrysler and Toyota vehicles
Comes with CodeConnect®, a database of 26 million verified repairs allowing quick and efficient troubleshooting and repair.
Also offers a component locater – allowing quick and easy replacement of faulty parts even on unfamiliar vehicles.
Can be used to reset the oil light for most 1996-2013 BMW & GM, and some Ford & Hyundai
Can be used to reset the battery light BMW, Mini Cooper and Ford F-Service truck
Can read SRS codes and definitions and ABS codes and definitions for most 1996-2013 GM, Ford, Chrysler, Toyota, Honda, Nissan, and Hyundai vehicles
Can read and display freeze frame data (snapshot of vehicle data at the time of the fault)
Can read and display enhanced engine and transmission codes for some vehicles
Can read and display all available I/M Monitors (emissions)
Can read and display pending DTCs
Provides a PID Name Description in live data saving the trouble of looking it up.
Allows graphing of two PIDs at same time
Can record real-time data, record it and even print to a computer
Battery / Alternator / Charging System Monitor
Offers trilingual menu and code definitions (English, Spanish, French) and a trilingual manual
Can be updated via USB port ensuring easy interface with computer.
Closing Ideas
Most people love the Actron CP9690, and we give it a 4/5 star review. Some of our friends that have used this tool do have some criticisms with it. In our experience, these fall into two categories:
The Actron CP9690 does not always work to read and clear SRS or ABS codes. It must be noted that Actron does qualify the list of vehicles whose SRS and ABS codes can be read. So if you need to clear SRS and ABS codes, make sure your vehicle is included on Actron's list!
Actron's customer service sucks. One of the biggest complaints that we've heard of is their customer service being less that par…  I've heard of buddies not receiving a user manual with the scanner! (these are available online though).
The CodeConnect database makes up for any of the cons listed above. That feature saves so much time time in diagnosing the problem and letting you get to fixing your ride.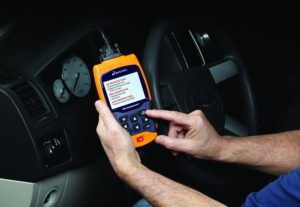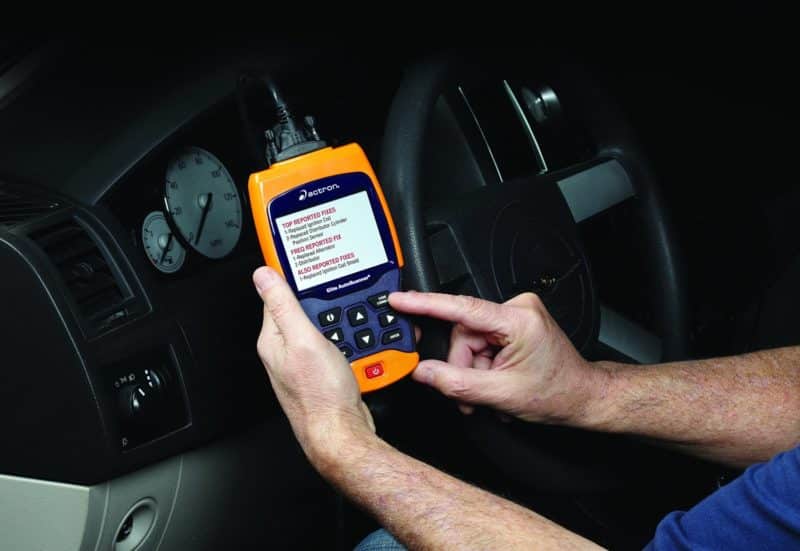 The Actron CP9690 is a premium scanner that is capable of reading both OBDII and some OBDI Vehicles. This makes it an excellent choice for a professional mechanic or an amateur enthusiast who carries out his mechanical repairs and who may own an older vehicle. It also benefits from its CodeConnect feature that allows for more rapid and accurate diagnosis of problems underlying a DTC saving both time and money by directing the person repairing the vehicle to the most common causes and even lists where components such as sensors may be found on the vehicle. It also allows realtime data logging, and allows data to be saved and sent to a computer. This is an advanced scanner that is well suited to someone who has some experience working with diagnostic devices. On the other hand, for someone who is a novice at maintaining and repairing vehicles, the Actron CP9690 can make diagnosis and repair of problems much less intimidating.
If you decide this is the right scanner for your, you can find it here from Amazon. That's where we purchased the shop's  scanner and highly recommend Amazon.
We hope you found this Actron CP9690 Elite review to be helpful in your quest for the best OBD2 scanner – if you have any questions, be sure to comment below! Not sure if this is the scan tool that fits your needs? Check out our buying guide to OBDII scan tools.
-Vince