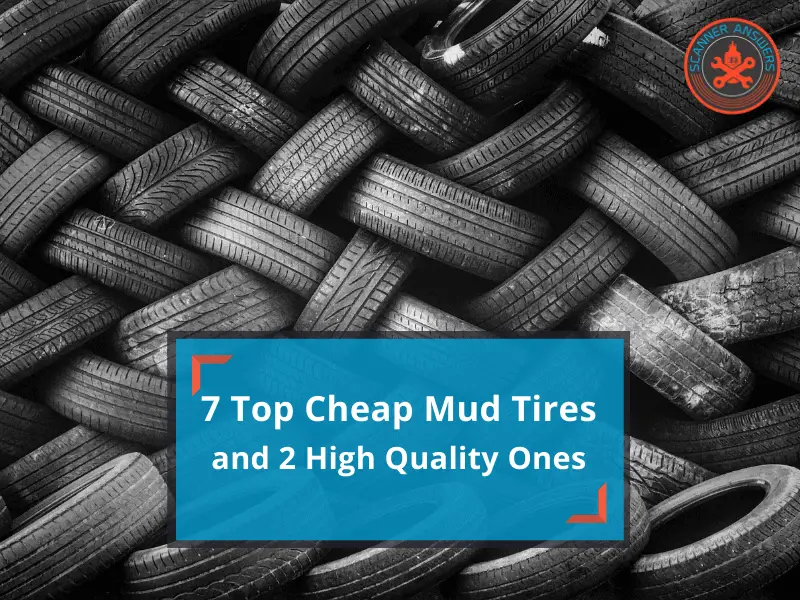 Mud tires are supposed to be more expensive than regular tires, but that was back in the olden' days. Now, cheap mud tires are readily abundant. However, it's not as easy as choosing mud tires with the lowest price. There's a difference between cheap and crappy tires, and that's a fact.
We compiled a list containing 7 of the best cheap mud tires you can get for any truck or SUV. We even included two not-so-cheap mud tires that offer better off-road performance. All prices are based on 33/12.5 R20 tire sizes. Naturally, smaller sizes will have lower prices, but we aim to compare prices in the larger sizing range to determine which brand offers the best bang for the buck.
Our Top 7 Favorite Mud Tires:
This is box title
1. Achilles Desert Hawk X-MT
Achilles has two types of mud tires in its stable. The Desert Hawk X-MT is considered the more aggressive of the two, with the X connotation meaning Xtreme. This means the Desert Hawk is an aggressive and durable 10-ply mud tire offering better off-road performance. And since we're talking about an Achilles tire, the price is definitely more affordable compared to OEM brands.
Desert Hawk X-MT is a new breed of mud tire. It has an aggressive tread pattern with chunky tread blocks to deliver relentless traction over loose, muddy, snowy, or rocky surfaces. Achilles went as far as fortifying the sidewalls to offer excellent protection against rocks, cuts, and damage. And since the sidewall is infused with rugged grooves, it manages to find grip over sandy surfaces or when driving with lower tire pressures. 
Read more about measuring tire pressure.
And despite the rugged appearance, Desert Hawk X-MT tires are surprisingly pleasant on the highway. It's definitely not the quietest mud tires you can buy, but it's among the most refined in the budget category. It does have a slightly stiff ride, but this is offset by the general calmness of the rubber as it rolls over the smooth tarmac.
Best of all, the Achilles Desert Hawk X-MT is available in a variety of sizes and rim widths. The Desert Hawk X-MT is among the most affordable choices for a mud tire.

2. Federal Couragia M/T
Federal's Couragia M/T is another brilliant choice for a cheap mud tire. Over the years, this tire has lived up to the hype of offering cheap thrills over extreme surfaces. The Couragia M/T is revered for its toughness and deep-biting tread blocks, no less enhanced by a reinforced tire compound that resists cuts, chips, and abrasions.
Mud tires are all about having an aggressive, go-anywhere attitude, and the same holds true for the Couragia M/T. Federal gave the tire an aggressive tread design with reinforced shoulders to offer all-season, all-weather, and all-surface traction when you need it most. And since the rubber is fortified for maximum toughness, the tires can withstand off-road impacts when it's time to have some off-roading fun. 
The Couragia M/T is also equipped with incremental block edges that literally sheds dirt, debris, sand, and gravel to consistently maintain perfect traction. Available in a bevy of sizes and rim widths, Federal Couragia M/T is a bargain.
This is box title
3. RoadOne Cavalry M/T
Not much is known about RoadOne tires. It's one of those lesser-known China-made tires with a low price and questionable durability. But if you dig deeper, RoadOne is 60-percent owned by Italian tiremaker Pirelli S.p.A, which means the brand has some proper know-how in making excellent tires. Case in point, this RoadOne Cavalry mud tire.
The Cavalry M/T has an aggressive directional tread design with staggered tread blocks and open shoulder design. The upper sidewall is also infused with detailed tread blocks to provide some added biting surfaces to the tire. The tread pattern is also designed to eject mud, rocks, sand, and debris from the grooves to consistently deliver traction over loose or muddy surfaces.
RoadOne Cavalry M/T is constructed using a reinforced tire compound. This enables the rubber to deliver maximum toughness and durability over challenging terrain. It's not the most refined tire on the road, but it won't back down when the going gets tough. With low prices, the RoadOne Cavalry M/T is pretty much a steal.

4. Patriot M/T
Similar to RoadOne tires, we don't know much about Patriot tires. We did some research and found out that Patriot tires were introduced in 2017 by Omni Tires USA. The tires are manufactured in an American tire factory in Taiwan, hence the lower price.
But it doesn't matter where the tires are made. The important thing to consider is performance, and Patriot M/T is one of the best when it comes to cheap mud tires. Patriot M/T is an all-season mud tire with a quiet ride. It may have some overly chunky tread blocks and a rugged design, but it's one of the few that manages to remain quiet when driven over smooth, tarmac roads.
Equipped with an M+S rating, Patriot M/T tires are great for extreme off-road surfaces including deep mud and snow. And even though Patriot M/T has a higher base price than other cheap tires in this list, it's hard to put a price on rugged tires that remain quiet on the streets.
This is box title
5. Atturo Trail Blade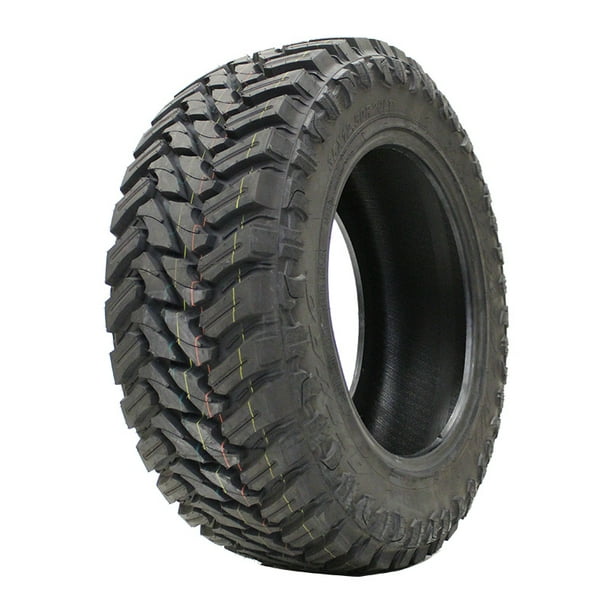 Atturo tires are manufactured at world-class factories in Taiwan and Thailand. The Trail Blade M/T is a performance tire built to conquer dirt roads. Atturo utilized a bespoke aluminum segmented mold in creating Trail Blade M/T to deliver the highest degree of tread uniformity in the budget segment.
Here's a fun fact: The Trail Blade M/T's tread design is based on the blade designs of Jared West from Quartermaster Knives. The inspiration behind knife blades is responsible for the Tail Blade M/T's menacing tread design. Equipped with extra deep treads, staggered shoulder blocks, and beveled center tread blocks, Trail Blade is capable of conquering any type of harsh terrain while still having a quiet and comfortable ride.
The Atturo Trail Blade M/T is definitely not the cheapest mud tire, but it's certainly a crowd favorite.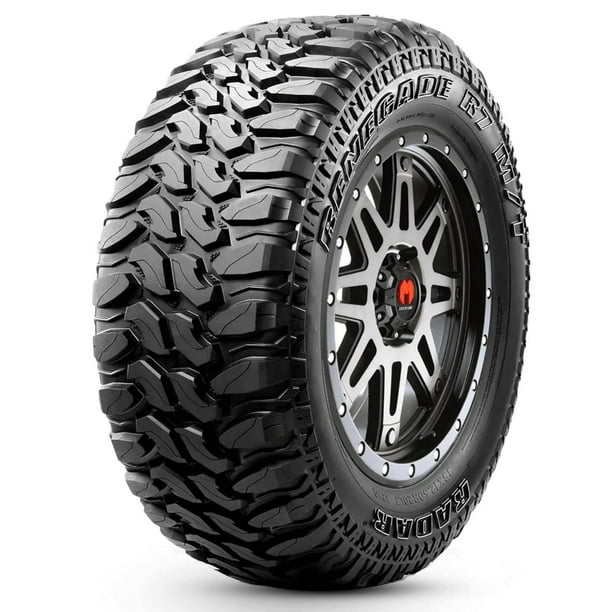 Radar Renegade R7 mud tires are all about strength and durability. Again, Radar is not a mainstream brand in the tire industry, but the Renegade R7 benefits from some racing DNA. The R7 M/T was born in the Baja 1000 and offers magnificent traction over all kinds of rugged terrain.
The most compelling feature of Renegade R7 is Radar's stone-ejector technology. Each tread block has a raised nub that easily ejects stones and debris from the tread face. The Radar Renegade R7 is also built using an extra layer of protective material in the sidewall to offer the strength of a 10-ply tire. When it comes to toughness, Renegade R7 M/T is definitely one of the best.
What we really love about Radar Renegade R7 is the smooth and refined ride quality. It also rides much quieter than other cheap mud tires. The Renegade R7 is a solid choice if you're not willing to spend more than $1k on a new set of mud tires.
This is box title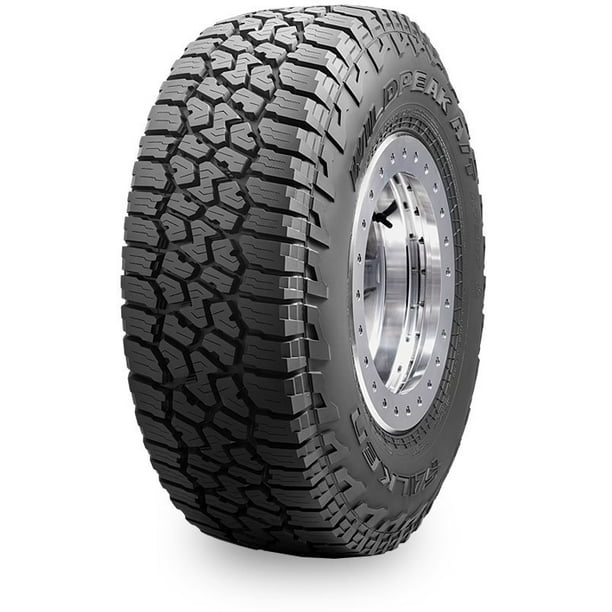 The Falken brand is a recognized name in the tire industry. The Wildpeak AT3W is an all-terrain and all-weather tire with extremely rugged capabilities. Falken goes as far as saying that Wildpeak AT3W combines rugged aggressiveness and the refinement of a highway-terrain HT tire, which is saying a lot when referring to chunkier tires for off-road use.
Since it's not an exclusive mud tire, you'll experience much less "howl" when rolling down the smooth roads.
The Wildpeak AT3W has the deepest treads in the category. The tire is equipped with rugged and rigid tread blocks with step-down features to offer superior grip. The tires even have offset shoulder blocks to offer added protection from rocks and other sharp objects while providing the necessary biting edges at low tire pressures.
And if that's not enough, Falken utilized a silica-enriched tread compound to offer longer wear and enhanced wet performance. Understandably, you're paying more money for a Falken mud tire, but you get a ton of features for the price.

---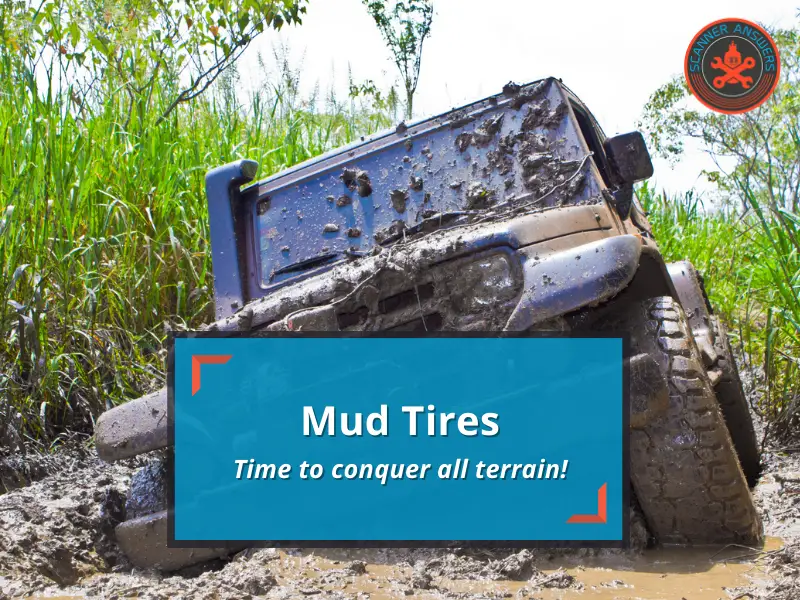 The Wildcards: 2 slightly higher priced, but much better mud tires
We decided to include two wildcards in our list of best cheap mud tires. These two brands are priced higher than most, but can offer better performance and longer wear if you maintain them.
Cooper is not ashamed to admit the Discoverer STT Pro is the most extreme and capable off-road tire the company has ever made. It offers excellent dry and wet performance along with a quiet ride and longer wear. The tire has alternating shoulder lugs to provide some added bite over muddy or soft surfaces while the mud release dimples are designed to keep the tread pattern free of mud and loose soil.
The Discoverer STT Pro is constructed from a reinforced compound with Cooper's Armor Tek3 technology. It also has a unique hybrid 3-2 tread pattern that is optimized to deliver a quieter ride without compromising on and off-road traction.
Cooper Discoverer STT Pro should be included in your shortlist of best mud tires.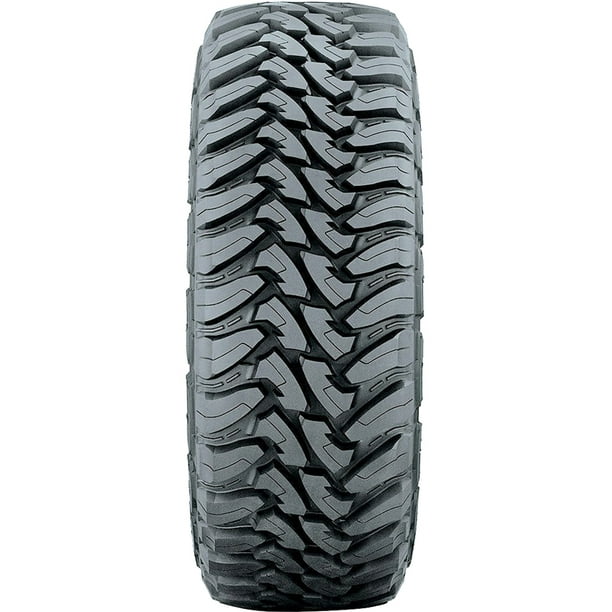 Odds are you've seen these skins on many local trucks in your town. Heck, they're some of the most popular tires around, mainly due to their aggressive looks.
Toyo's Open Country M/T has one of the most aggressive tread blocks in the industry with a hook-shaped pattern. This enables the tire to deliver relentless off-road traction and impressive on-road performance.
You'll find deep siping between the tread blocks to evacuate water and maintain a solid grip over wet roads or snowy surfaces. Toyo Open Country M/T is also unique with its over-the-shoulder tread design and scalloped shoulder blocks. This feature not only improves traction in deep mud or snow, but it enables the tire to effortlessly go over any obstacle for added driving confidence.
As expected, Toyo Open Country M/T are the highest-priced tire in this list. But then again, you get rugged looks and excellent on/off-road performance along with a superb warranty.
Make sure you clean those tires after mudding!
What to consider when looking for mud tires
Mud tires have evolved over the years. The trend nowadays is 'hybrid tires' that merge the qualities of a road tire with that of an off-road tire. The result is a smoother and quieter ride with less tire roar when driven over paved roads.
When choosing a mud tire, it's important to consider the type of terrain. Not all mud tires are created equal and choosing the cheapest set does not exactly mean you're getting the best kind. More importantly, it's best to choose the right size for the intended application.
Should I buy cheap mud tires?
There's nothing wrong with buying cheap mud tires as long as you know what you're getting. Of course, don't expect the highest level of refinement, ride quality, or off-road traction if the tires are dirt cheap. When it comes to tires, you usually get what you pay for.

Tire size explained (U.S. vs Metric)
There's a lot of confusion in terms of tire plus sizing. Tires are usually expressed in metric sizes.
Let's look at an example of a popular combo which is a 20″ Wheel/Rim, wrapped in a 33×12.5 Tire. These are commonly called, "running 33s"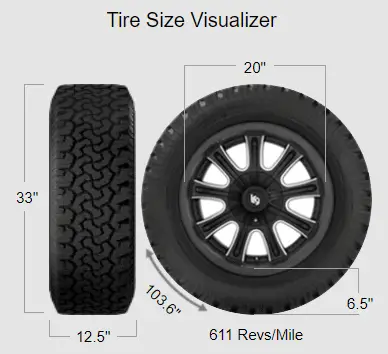 We write this combo out as 33×12.5 R20. This is considered U.S. sizing.
33 = Tire height
12.5 = Tire Width
R20 = 20″ Rim/Wheel size
The Metric equivalent size would be, 305/55 R20.
This Metric mud tire means the tire is 305 millimeters in width; the 55 is the aspect ratio of the tire and represents a percentage of the tread width relative to the height of the tire, and the R20 is the rim size (In this case, it's 20-inches in diameter… side to side).
In the image below we're comparing a 33×12.5 listed next to a 305/55 tire. Notice that the 33″ (Tire #1) is slightly shorter, and wider than the 305 (Tire #2)?

If you're having trouble with tire size, tiresize.com is a great site to check out.