For installing interior components, spoilers, bumpers or body kits, you will need to use a strong adhesive to ensure that it's securely stuck to the car. Due to the amount of automotive plastic, fabric or fiberglass parts, there is a range of suitable car glues available for specific tasks. Before gluing anything, you should also consider whether you need the glue to be permanent or removable too.
If you require a quick answer, the best glue for plastic car parts is Tiger Seal U-Pol Adhesive, which permanently sticks car parts to the intended surface. For parts that may need to remove at a later stage, the 3M 03614 Double Sided Tape is the best alternative that can be easily removed.
To rate the glues for car parts in this article, we based our recommendations upon our experience, research and multiple factors. The factors we considered included their ease of application, type, strength and value.  We have also field tested each of these products on a variety of plastic automotive parts.
Automotive Adhesive Comparison
Using glue for sticking car trim and other parts together will need to be strong and long lasting. Plastic components such as clips, buttons and other components are easily broken and using an automotive glue for cars is the best method of fixing it.
Below is a list of the best glues for plastic car parts that are suitable for a range of automotive components and are easy to apply.
The Best Glue For Automotive Plastic
---
1. Tiger Seal U-Pol Automotive Adhesive
The Tiger Seal U-Pol is the strongest car glue on the market that permanently seals plastic trims, bumpers, body kits and other parts. It's also designed to be applied using a caulk gun where it provides a super strong bond.
It's important to note that once the cartridge is opened, the exit tube will become solid and difficult to clear. Therefore, we'd recommended pushing a long nail down the tube to make it reusable at a later date.
Other features of the Tiger Seal U-Pol Automotive Adhesive include:
Permanently seals and bonds
Fully waterproof
310 ml cartridge
Great for filling gaps
Perfect for automotive and domestic gluing
Requires caulking gun for easy application
Overall, the Tiger Seal U-Pol is the best glue for plastic car parts that you want to permanently stick to the car. Once settled, you will find it very difficult to remove, which makes it ideal for automotive use such as gluing spoilers, bumpers and so much more.
2. 3M 03614 Double Sided Tape
3M is a global brand that have a great reputation for automotive bodywork and detailing products. Their double-sided adhesive tape follows their great reputation and it's an alternative to a glue and also has the added benefit of being easily removable without causing any damage.
According to the brand, their tape uses the same technology that's used upon airplanes and skyscrapers. Therefore securing plastic trim and other car parts is relatively easy for the tape. To apply it, all that's needed is for you to cut it to the specified length, remove the liner to expose the adhesive and finally hold it firmly in place.
Other features the 3M Double Sided Tape include:
Easy to apply with no special tools
Forms a strong bond instantly
Can be cut to length to reduce wastage
Leaves no residue once removed
Available in a range of sizes
If you require a glue that can be removed at a later date, we highly recommend the 3M Double Sided Tape. It's ideal for sticking car trim, spoilers, license plates and so much more. For larger car parts such as bumpers or anything that needs permanent bonding, we'd recommend choosing the Tiger Seal alternative above.
3. 3M 38808 Automotive Headliner Adhesive
Another 3M automotive adhesive is the 38808, which is ideal for interior fabric and headliner repairs. It's an aerosol spray, which makes application much easier because you can evenly cover any surface with the adhesive.
Other features of the 3M 38808 Adhesive include:
Bonds fabric, foam and plastic to metal
Dries in just 30 to 60 minutes
Excellent strength from a spray
Resistant to moisture, heat and coldness
Easy to control and evenly sprays
Overall, there is no match in terms of performance, it's the best glue for car headliners and other interior fabrics that require sticking. The 3M 8808 spray does an excellent job unlike many of the cheaper alternatives available.
4. Amazing GOOP 160012 Car Glue
Goop isn't a large brand by any means but their adhesive glue is specifically designed for automotive parts. For repairing tears in car seats to convertible tops, this car glue is strong, flexible and provides excellent results.
The only drawback is that the container is small, which means you may need multiple for certain automotive tasks. However, the small size does make it easier to use within tight spaces.
Other features of the Amazing GOOP Automotive Adhesive includes:
Suitable for vinyl tears, floor mats, convertible tops and more
Powerful bond that is completely waterproof
Resistant to high temperature and UV light
Clear glue that is great for targeting small areas
Dries hard and is sandable
Overall, the Amazing GOOP is the best cheap car glue for plastics and various other components. It's a versatile glue that can withstand high temperatures, UV light and is also waterproof for use in or outside of the car.
5. J-B Weld 50139 Plastic Bonder
Many people may require a fast action glue that bonds car plastic trim to the metal surfaces in a matter of minutes. If this is the case, the J-B Weld 50139 will do this in approximately 15 minutes with their high strength automotive adhesive. The brand even state that their car glue is strong enough to handle 3,770 PSI once fully bonded to the surface, which is highly impressive.
Other features of the J-B Weld 50139 Car Plastic Glue includes:
Sets in 15 minutes and sands in 30 minutes
Resealable with a no waste cap
High strength urethane adhesive system
Strength is rated at 3,770 PSI
Perfect for small plastic car parts
25 ml bottle
Overall, the J-B Weld 50139 is the best car glue for fast bonding and it works great for small parts such as buttons, clips and other plastic trims. For larger automotive parts, we strongly recommend using the alternatives because it will use far too much of the formula.
6. Rhino Heavy Duty Car Glue Pro Kit
Rhino is a highly reputable brand and their professional strength glue is ideal for sticking plastic car trim together. The brand offer their kit in several different configurations where each includes everything you need for sticking car trims together. The kits includes three different glue types with separate brushes, which allows you to choose the correct car glue to best suit your requirements.
Other features of the Rhino Heavy Duty Glue include:
Clear and tough formula
Triple distilled for faster bonds
Intuitive screw cap that prevents clogs
Completely waterproof when bonded
Easy to use brush applicator
Shock, heat and moisture resistant
Suitable for multiple applications
Overall, the Rhino Glue Set is an all-purpose car glue that provides a strong and reliable bond that's also very easy to apply. The fact that it's shock, heat and moisture resistant is testament to the fact that it can withstand even the toughest of environments.
Plastic Car Glue Buying Guide
From broken clips to buttons, having glue for car plastics readily available can save the day. Domestic glues aren't up to the job of withstanding the punishment and environmental factors that a car will go through on the road. Therefore, there are plenty of specialized adhesives on the market that provide a strong bond that's designed for automotive use.
To help you make an informed buying decision, we have put together the below buying guide regarding automotive adhesives.
Types of Glue for Plastics
Cyanoacrylate (Super Glue): Works well for bonding rigid plastics.
Epoxy: Effective for bonding various types of plastics, including ABS and PVC.
Plastic cement: Specifically designed for bonding plastic surfaces. It creates a strong bond with certain types of plastics.
Polyurethane adhesive: Suitable for bonding a wide range of plastics.
Application of Car Glue
Glue for plastic car trims can come in a range of types that are designed for specific jobs. For example, glue for car headliners is normally in the form of an aerosol whereas spoilers require a stronger adhesive from a tube.
Therefore, ensuring that the glue you choose is up to the job of sticking plastic trim to your car is very important. The wrong glue can become a nightmare to apply correctly or remove when you need to take the part off.
After you've applied the glue, it's important that you allow it to settle before taking your car out on the road. We strongly recommend using tape to hold the car part in place (as shown below) to ensure that it sticks correctly.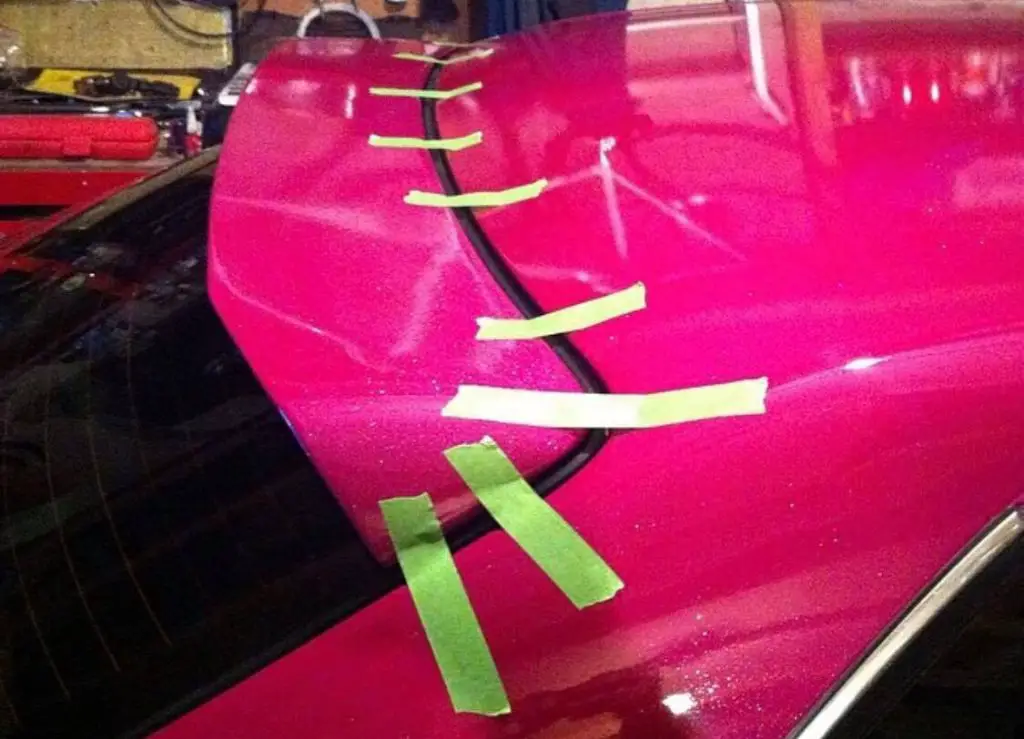 Permanent or Semi-Permanent
When it comes to repairing items such as car bumpers or trims, you will more than likely require a permanent car glue such as the Tiger Seal. However, if you were installing a spoiler that at a later date you may want to remove, it wouldn't be advised to use a permanent glue. Trying to remove glue such as the Tiger Seal won't only require a serious amount of effort but may also cause damage to the vehicle.
There are many semi-permanent automotive glues available and our favorite is the 3M double sided tape. Once applied, it forms a strong bond that will be able to withstand the outdoor elements and many years of use. However, it can also be removed when you wish without leaving too much glue residue.
Therefore, before purchasing any glue, you need to decide if it's going to be permanent or not.
How To Remove Adhesive Residue
The result of removing car parts such as spoilers, plastic trims and body kits is that their may be some tough residue left behind. If this is the case, you need to avoid picking at the residue with or over washing the area because this will can cause damage to your paintwork.
Instead, we would highly recommend investing into a rubbing compound that will easily remove any residue. Most will require use of a car buffer to work in the product but this will be the safest method of removing the residue. If you are struggling to remove the residue, you may require light sanding of the area before polishing.
Conclusion
Gluing plastic car parts back in place is far easier than you would expect. There are now hundreds of automotive adhesives that will be able to withstand all weather conditions and other outdoor elements. All of our recommendations above are the best for specific tasks and are easy to apply without being too messy.
Tip: Always follow the instructions provided by the adhesive manufacturer for the best results. Additionally, it's a good idea to test the adhesive on a small, inconspicuous area before applying it to the entire project to ensure compatibility and proper bonding.